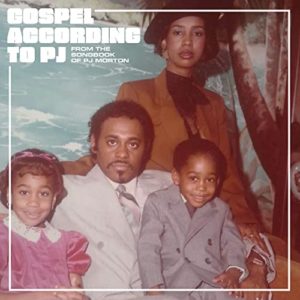 PJ Morton
Gospel According to PJ
Morton Inspiration / Tyscot (digital release date: August 14, 2020; physical release date: November 27, 2020)
www.tyscot.com
By Bob Marovich
Much is being made about Gospel According to PJ being PJ Morton's return to gospel. But like the Reverend C. L. Franklin said of his GRAMMY-winning daughter Aretha, Bishop Paul S. Morton can say of his GRAMMY-winning son: he never really left the church.
That's because most of Gospel According to PJ is a re-introduction, in new arrangements, of sacred songs that Morton, a multi-genre musician, singer, songwriter and record producer, created for other artists. As such, it has what may well be the most star gospel features on one disc.
Since Morton has served as Maroon 5's keyboardist, the uninitiated might wonder whether the album sounds like the famous pop group singing songs of inspiration? Or perhaps the cuts reflect Morton's substantial R&B work? Surely pop constructions predominate, but they surround a solid church core. For example, "Don't Let Go," a song of encouragement featuring Kim Burrell, with PJ on warbling organ, is basically a church solo.
If the songs are Morton originals, they develop distinct musical personalities in the hands of each featured vocalist. For example, "Gotta Have You," first recorded in 2015 by Jonathan McReynolds, is so characteristically a Kirk Franklin jam that you can identify it as Kirk's in the first few bars (Jermaine Dolly and Lena Byrd Myles also contribute to the track). "All in His Plan," the 2019 radio hit coupling LeAndria Johnson with Mary Mary, takes on the distinctive vocal shading of each of these three talented artists.
Several selections recognize the Morton family's longstanding association with Detroit. "Repay You," which oozes thanksgiving to the Most High for bestowing blessings despite our failings, was done originally by Trin-i-tee 5:7 alumna Chanel. Here it is rendered by the son of another famous gospel family, Detroiter J Moss. Morton gathered together the four original members of Commissioned to offer the tuneful "Over and Over," recorded earlier by Trin-i-tee 5:7. The Clark Sisters, another Detroit connection,  deliver on the equally melodic "Here He Comes Again."
With its orchestral sweep, "God Can/Let Go," led by Smokie Norful, is the elision of two Morton songs debuted by DeWayne Woods. "Do You Believe" is a Christmas duet between Morton and Yolanda Adams.
Like the Reverend C. L. Franklin on Aretha's gospel albums, Bishop Paul Morton makes a cameo appearance on Gospel According to PJ. His participation is not as a vocalist, which would have been ideal, but in a series of brief telephone conversations between father and son. Bishop Morton offers his imprimatur on the project by acknowledging pride in his son's accomplishments. As well he should: the album has the vibe of a greatest hits collection.
Five of Five Stars
Picks: "Repay You," "All in His Plan," "Over and Over"
Written by : Bob Marovich
Bob Marovich is a gospel music historian, author, and radio host. Founder of Journal of Gospel Music blog (formally The Black Gospel Blog) and producer of the Gospel Memories Radio Show.