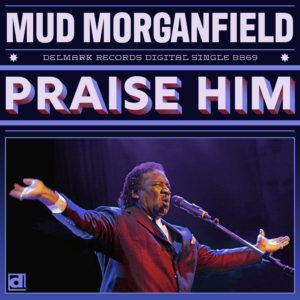 "Praise Him"
Mud Morganfield
Delmark Records (release date: August 20, 2021)
www.delmark.com
By Robert M. Marovich
Although Chicago's Delmark Records is best known for its estimable blues and jazz catalogues, there's a sacred single in the mix, brought to you by a most surprising source: Mud Morganfield, the eldest son of electric blues pioneer Muddy Waters.
Expressing the religious experience in his own way, Morganfield conjures "Praise Him" as a hoodoo brew built on a pinch of blues, a dollop of gospel, and a generous scoop of Memphis-style soul.
A salvation story sets the scene for this haunting praise song. Morganfield participates in a call-and-response with a trio of singers, while Luca Chiellini's organ sets a brakeless tempo and guitarists Mike Wheeler and Rick Kreher, along with Mud on bass and Cameron Lewis on drums, offer a seething rhythm section. This track, which could benefit from a radio edit version, is less church hymn, more blunt testimony at a late night revival.
Written by : Bob Marovich
Bob Marovich is a gospel music historian, author, and radio host. Founder of Journal of Gospel Music blog (formally The Black Gospel Blog) and producer of the Gospel Memories Radio Show.