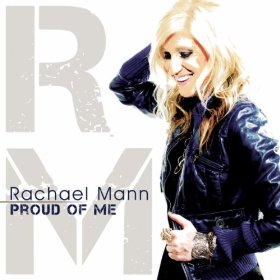 Rachael Mann
Proud of Me
C2 Records/Oak Tree Productions (2014)
www.rachaelmann.org
By Bob Marovich
Rachael Mann's Proud of Me EP, released last July, is power pop-infused CCM delivered with vocal confidence.
No newcomer to religious music, Mann has recorded and performed live for years not only in the U.S. but also overseas and with a variety of top-shelf stars. The six inspirational tracks on her EP demonstrate her studio savvy as she encourages the underdog ("Roll with the Punches") and, on the title track, likens the love between God and humanity to a parent for a child.
What separates Mann from many other CCM singers is her deep affection for African American gospel music and her use of it in her own music. Plus, she has opened for Kirk Franklin, appeared in Trip Lee videos, and has shared the stage with luminaries such as John P. Kee, Hezekiah Walker, and Marvin Sapp. Tre' Corley, who produced the EP, has worked with the likes of Donnie McClurkin.  Mann's love for gospel shows most prominently on the EP's "More for You," an urban AC power anthem complete with a rap interlude from W.I.T.
It is on the beautiful ballad "Pieces," however, where Mann really demonstrates her vocal potential. As Lady Gaga showed us at the Academy Awards, a sure sign of talent is when you peel away the heavy instrumentation and the singer sounds even better. That's what you get with "Pieces." Given astute management and direction, Rachael Mann is sure to take off.
Four of Five Stars
Pick: "Pieces."