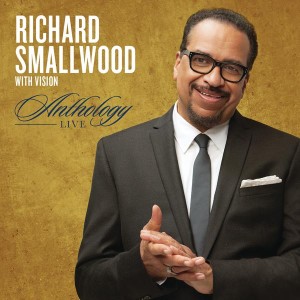 Richard Smallwood with Vision
Anthology Live
RCA Inspiration (release date: June 29, 2015)
By Bob Marovich
Arguably the most anticipated gospel album thus far this year is Richard Smallwood with Vision's Anthology Live. The seminal group's first project in four years is a double-CD live recording that offers new selections as well as an extended retrospective of Smallwood's artistic legacy.
In addition to reflecting on his own opus, Smallwood pays tribute to the Roberta Martin Singers, Edwin Hawkins, and Andrae' Crouch—gospel legends who inspired him to play, write, and direct. The Martin Singers, and especially the ensemble's accompanist Little Lucy Smith, are among his earliest influences. "Because of them, I am," Smallwood reflects, and Vision launches into one of the Martin Singers' earliest and biggest hits, "Only A Look."
The audience is clearly pleased hearing this classic gospel, which makes me wonder why it isn't covered more often, if at all, these days. For every generic praise and worship anthem, there are hundreds of emotion-tripping gospel songs that for decades never failed to send seismic shifts through a congregation. Putting a contemporary patina on them, as Smallwood and Vision do on "Only A Look" and on Edwin Hawkins and the Hebrew Boys' "When We All Get To Heaven," could do the art of gospel good.
But I digress.
The finest moments on Anthology Live are the tributes and retrospectives, with the "Richard Smallwood Singers Medley" surpassing the "Vision Medley" in offering a seamless parade of memorable melodies; Dottie Jones' rendition of "I Love the Lord" is among the highlights. Otherwise, the best selections on the album are those that make full use of Smallwood's symphonic mastery in creating high church music, such as "In Your Presence," rendered by Maurette Brown-Clark, and the beautiful "Lord You Reign," a melodic second cousin to "Total Praise" ("Total Praise" is missing from the "Vision Medley" but thankfully makes its appearance later, during the "Post Medley").
The two hour program closes with a lovely solo piano tribute to the late Andrae' Crouch. It's a fitting conclusion for Richard Smallwood, who has perfected the art of the heartwarming coda.
Four of Five Stars
Pick: "In Your Presence," "Lord You Reign."