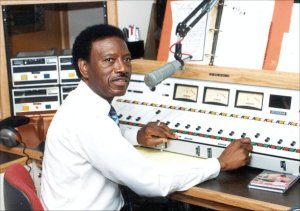 By Robert M. Marovich
JGM was saddened to learn of the passing on April 14, 2021, of St. Louis gospel radio announcer Columbus Gregory. He was 90 years old.
In addition to more than a half-century on St. Louis radio, Gregory co-founded Redi-Soul Records, an independent label also based in St. Louis. Using saxophonist Oliver Sain's legendary Archway Studio, Redi-Soul recorded many local artists in the 1970s, most notably the Williams Singers, who would sign with Checker Records, and the Gregory-Aires.
I was honored to interview Gregory for my "Gospel Memories" radio show in May 2009. This article on the St. Louis Media History Foundation website is a fine tribute to Bro. Gregory and his life in gospel music. RIP Radio Angel.
Written by : Bob Marovich
Bob Marovich is a gospel music historian, author, and radio host. Founder of Journal of Gospel Music blog (formally The Black Gospel Blog) and producer of the Gospel Memories Radio Show.