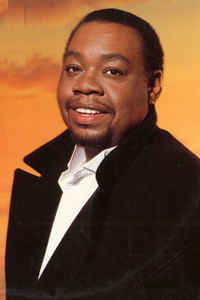 By Robert M. Marovich
The Journal of Gospel Music was saddened to hear of the passing of Dr. Douglas Miller, a choir director, singer, songwriter, and contributor to the International Music Department of the Church of God in Christ.
The following is a brief bio I wrote for the Malaco Music Group website. UPDATE: Special thanks to Dr. Miller's sister, Pastor Sylvia Miller Allen, for providing updates and corrections to the bio.
Dr. Douglas Foster Lane Miller was born on New Year's Eve, 1949, in Johnstown, Pennsylvania, to Theodore and Naomi Miller. They were active in the local First Born Church of the Living God, pastored by Bishop Joseph McGauley Sr. It was at this church that young Douglas, without any formal keyboard training whatsoever, began accompanying its various singing groups on piano. He also sang and directed the church's youth choir. Soon churches throughout the area were calling for this wunderkind to appear at their services.
Miller moved to Akron, Ohio, with his godparents, Deacon Lawrence and Donna Hill, and was a member of Holy Temple First Born Church of the Living God in Akron. He began receiving invitations to accompany evangelists such as Sister Goldia Haynes, a national recording artist who hailed from East St. Louis, Illinois.
In 1970, while attending the University of Akron, Miller met gospel music icon Mattie Moss Clark, who presented him at COGIC's Midnight Musicals. He met Dr. Clark through Supt. S.E. Mitchell, national evangelist of the Church of God in Christ, who he played for and traveled with, and was also a member of his church in Denton, Texas.
Wherever he went, Miller impressed listeners with his muscular baritone delivery, and began assuming significant positions, such as national minister of music for the First Born Church of The Living God as well as organist and soloist for the COGIC J.O. Patterson Crusades. Miller's first appearance on vinyl was in 1976, when he sang "The Just Shall Live by Faith," recorded with the COGIC International Mass Choir at the denomination's UNAC Convention in Los Angeles.
It was Clark who produced Miller's first two albums, both on the GosPearl label: 1981's Douglas Miller and the Texas Southeast State Choir (COGIC) with Mattie Moss Clark and 1982's The Joy of the Lord (Is My Strength). The latter LP, sung with the True Way Choir (COGIC), included the hit title track and a rollicking arrangement of the hymn "Pass Me Not" that entered the repertories of gospel choirs across the country.
But Miller's national fame came after he joined Atlanta International Records (AIR), which released I Still Love the Name Jesus in 1984. The album rose to number five on the Billboard Top Gospel Albums chart. The follow-up, 1985's Unspeakable Joy, (Light Records), hit number six, producing two songs that became associated with Miller: the title track and "My Soul Has Been Anchored in the Lord." His next release, Redeeming Love (back on AIR, 1985), made it to 22 on the chart. Living On The Top (Word, 1990) teamed Miller with such leading gospel lights as Shirley Caesar, Gwen Morton, the Thomas Whitfield Company and Michael Fletcher.
While Miller's songs have been anthologized several times, in 2000, AIR released The Best of Douglas Miller: the Early Years to bring together all of his best-known selections on one CD.
In addition to singing and appearing in faith-based musicals, Douglas Miller was an active member of the International Music Department of the Church of God in Christ. In recognition of his singing, musicianship, songwriting, and service to the church, the Christian International Bible College awarded Miller an Honorary Doctorate of Christian Music Education in 2015.
Written by : Bob Marovich
Bob Marovich is a gospel music historian, author, and radio host. Founder of Journal of Gospel Music blog (formally The Black Gospel Blog) and producer of the Gospel Memories Radio Show.