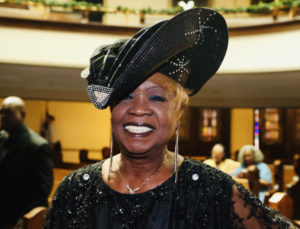 By Robert M. Marovich
Eric Maurice Clark shared the sad news that gospel singer Madeline Thompson has passed away.
Clark had interviewed Thompson for the February 2021 issue of his Inside a Gospel Music Historian's World magazine.
From Philadelphia, Madeline sang with her sister Julia in a duo called the Thompson Sisters. They even sang with the Imperial Gospel Singers at one point. In 1960, Mother Gertrude Ward wanted the two young ladies to join the Ward Singers; the departure of several foundational members to form the Stars of Faith left a gaping hole in the national gospel group. Only Madeline took Mother Ward up on her offer. She continued to sing with the Wards for many years. Thompson is best known for her rendition of "Traveling Shoes."
Thompson's appearances on record, outside of the Ward Singers, include the Fourth of May's 1982 Savoy album Pass it On and, with Ward Singer Vermettya Royster and a host of James Cleveland singers and musicians, as New Spirit on a 1987 James Cleveland Presents album called Sunday Morning.
On February 9, 2020, before the pandemic shut things down, Thompson, Annette May Thomas, and Kenneth Glover were among the honorees at a special program sponsored by the Gospel Music Workshop of America – L.A. Chapter. The presentation, held at People's Independent Church of Christ in Los Angeles, featured a gospel program at which the honorees sang.
JGM extends its sympathies to Madeline Thompson's family, friends, and fans around the world.
Written by : Bob Marovich
Bob Marovich is a gospel music historian, author, and radio host. Founder of Journal of Gospel Music blog (formally The Black Gospel Blog) and producer of the Gospel Memories Radio Show.