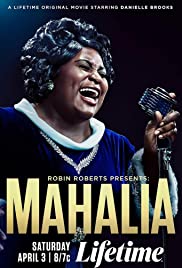 Robin Roberts Presents: Mahalia
(106 minutes, dir. Kenny Leon, 2021)
www.mylifetime.com
By Robert M. Marovich
Lifetime did not ask me to review Robin Roberts Presents: Mahalia, but since a few individuals have inquired as to my thoughts on the biopic, I thought I'd post them here.
First, I commend executive producer Robin Roberts, director-actor Kenny Leon, the late writer Bettina Gilois, and the rest of the team for getting gospel singer Mahalia Jackson's story produced at last. Several attempts over more than a decade to bring Mahalia's story to the screen have, with this exception, failed for various reasons.
The biopic, which aired this month on Lifetime, is a largely sympathetic portrait of the celebrated gospel singer, its uncomplicated script and fundamental emotional appeal the product of adapting a story to TV / streaming and reaching a broad audience. To stuff a twenty-pound story into a five-pound casing means sacrificing a good deal of character development—the richness, nuance, and grit that a two-hour-plus motion picture can better capture.
I was gratified that Brother John Sellers, Estelle Allen, Mildred Falls (played with sensitivity by Joaquina Kalukango), first husband Ike Hockenhull, true love Reverend Russell Roberts (Jason Dirden captures the minister well), and Studs Terkel were woven into the narrative. Surprised, however, that Thomas A. Dorsey was MIA. Dorsey's hiring Mahalia as his song plugger in the 1930s was critical to the artistic development of both, yet the Father of Gospel Music is not portrayed.
In the opening scene, a young Mahalia is singing the blues to a record spinning on a wind-up phonograph. When the camera zooms in on the phonograph, we see not a 78 rpm record but a twelve-inch LP, a recording format that wouldn't be introduced commercially for another generation. I scratch my head at such embarrassing errors, and this particular one seems to happen often in films. It would have been better to have Mahalia singing to a Columbia Records 78 of Bessie Smith's "Careless Love Blues," because that was a song she sang in her youth. Better yet, have her singing "Careless Love Blues" while collecting rocks of coal by the railroad tracks, something she also did, and something that may have contributed to her sarcoidosis diagnosis later in life.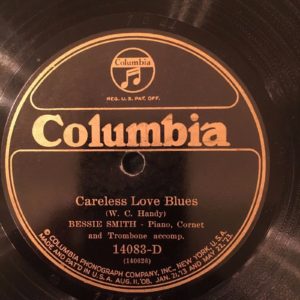 Soon thereafter, Mahalia is portrayed in church singing Kenneth Morris's "Yes God is Real." She states that she had been singing the song since she was baptized. This is incorrect, as Mahalia had long been dipped in the water by 1944, when Morris published the song.
The Apollo Records recording session scene was truncated and fictionalized. Truth is, Mahalia's first couple of Apollo releases did about as poorly sales-wise as her 1937 Decca discs. Just as Apollo was about to release her from her contract, there was a decision to record her in Chicago singing "Move On Up a Little Higher," a song she used to warm up her voice. It was indeed a late night session, but in Chicago, not New York, and without Bess Berman and others involved.
For Mahalia's Carnegie Hall debut, the moviemakers focus on the drama of Mildred's arthritis and drinking when, as Pastor Donald Gay, who was there, recalls, it was Mahalia who had the panic attack in the green room. She was sharing the bill with the Ward Singers, who were busy singing the storied hall's light fixtures loose. Mahalia had watched that game reel before; she knew the Wards were formidable competition. Overcoming her nerves, Mahalia went out there, wowed the audience, and returned time and again to appear at Carnegie Hall.
The one-dimensional portrayal of second husband Minters Galloway as an arrogant SOB seemed a little ham-handed. And for all the moments when Mahalia shared her interest in having children, not including her stepdaughter Sigma Galloway as a character, even for a minute, was a missed opportunity.
Notwithstanding these details, Danielle Brooks does a marvelous job as Mahalia, her singing is magnificent, and although Mildred Falls' modified barrelhouse piano accompaniment is more Dorsey than Falls, the music is the real star of the show. It is also worth watching to understand how Mahalia Jackson overcame poverty and the many obstacles of being Black in America to leave a lasting legacy on music and the Civil Rights movement.
Written by : Bob Marovich
Bob Marovich is a gospel music historian, author, and radio host. Founder of Journal of Gospel Music blog (formally The Black Gospel Blog) and producer of the Gospel Memories Radio Show.