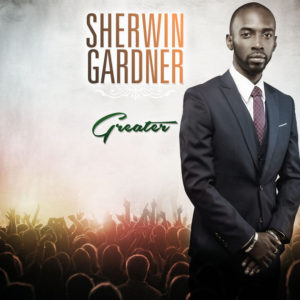 Sherwin Gardner
Greater
Flow Masters / Tyscot Records
(global release: May 26, 2017)
www.tyscot.com
By Bob Marovich
Those who follow my reviews know I'm not typically sold on an album's selected single, and often feel other tracks on the CD are far stronger.
But "Because of You," the first American single from Sherwin Gardner's album Greater, deserves to be the one. I couldn't get the melody and lyrics out of my head 24 hours after listening to it.
Of the live and studio versions of "Because of You," both offered on the CD, I prefer the live version. Here, the song's lyrical apex, "They say that I would die / They told me I won't survive," is a testimony sung with such dramatic tension as to stop one's brain in mid-thought. The song is based on Gardner's mother's decision not to abort him when the doctors thought he might be born with birth defects.  "But you said I shall not die / You said that I'd survive," Gardner declares.  And he did survive, a healthy baby boy.
A seven-time Marlin Award winner (Trinidad and Tobago's equivalent of the Stellar Awards), Gardner is at his finest when he is both melodic and rhythmic. He's especially effective when he injects the reggae and dancehall formulae of his native land, such as on "Trouble," a song about turning the tables on the devil. "Praises Go Up," one of the three studio offerings on this mostly live album, features a duet with Deitrick Haddon and a beat fueled by an amalgam of Caribbean rhythms and EDM. This combination of infectious home-grown rhythm and pumping EDM also propels the uplifting bonus track, "I'm a Winner."
While Gardner's lyrics fall mostly within the P&W convention, he has a talent for giving P&W melodies a pop hook. The wordless lyric and Coldplay-esque hypnosis of "New Life" is one example, and the title track, which features fellow P&W traveler Todd Dulaney on the reprise, is another.
The members of Gardner's background vocal team deserve special mention for their flexibility as soloists as well as their ability to harmonize so tightly no air seeps through.
All in all, Greater is a fine introduction to Sherwin Gardner to the world outside the Caribbean.  It has the potential to give Tyscot another Anthony Brown, though I hope future albums include more of the Caribbean flavor that he helped introduce into sacred songs in Trinidad and Tobago, and that subsequently made him famous.
Four of Five Stars
Picks: "Because of You," "Praises Go Up."
Written by : Bob Marovich
Bob Marovich is a gospel music historian, author, and radio host. Founder of Journal of Gospel Music blog (formally The Black Gospel Blog) and producer of the Gospel Memories Radio Show.