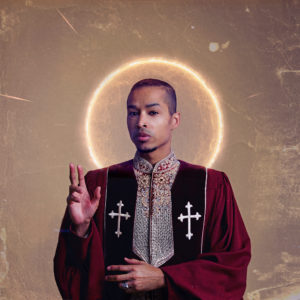 By Bob Marovich
The sacred-secular divide in music is a uniquely modern conception, and it misses the point. In West Africa, where most enslaved Africans came from, all music was sacred and all music was secular. There was no distinction…until the music came to America during the African Diaspora and distinctions based on intent were forced upon it.
This Saturday night-Sunday morning dialogue about what makes gospel gospel arises whenever a new generation of music makers blurs the applied distinctions to communicate a modern message to a contemporary community of believers and non-believers.
Perhaps no artist today better represents the blurring of the distinction than Sir the Baptist. Nominated for two Dove Awards, Sir is best known for his mixtape Saint or Sinner (Atlantic, 2017). The album amplified the relationship between hip hop bravura and religious intention more than any album in recent times. It even became, as far as I know, the first gospel album to contain explicit lyrics.
The Journal of Gospel Music spoke to the envelope-pushing artist, William James Stokes, on the very day he legally changed his name to Sir the Baptist.
One of the last of 22 children, Sir grew up—and still lives—in Chicago's historic Bronzeville neighborhood. His father pastored Bright Star Church of God in Christ, where Sir sang in the choir. "I also preached, played the drums, swept…everything!" he laughed.
Sir also sang in the choir at Leo Catholic High School, an institution he considers to be "probably one of the most mind-shifting opportunities I've ever had." After graduation, he attended Columbia College but only "for a day." He decided he didn't want to wait to get into the music business, so he left Columbia and found a job in advertising.
At one point, Sir was happily married with three young children and had a great job with Leo Burnett, serving as the agency's director of digital marketing. But the more his passion to make music kept tugging at him, the more compelled he felt to make the tough decision to leave Leo Burnett and focus full time on a music career.
He adopted for his stage persona the name Sir the Baptist. It comes, he explained, from the desire to be a knight "for my family, for my community, and for the culture of black gospel church music." The Baptist portion doesn't have anything to do with his religious affiliation, though he is quick to point out that his father was ordained by the Reverend Louis Boddie at Chicago's Greater Harvest Baptist Church. "My father would have stayed a Baptist, but he was convinced to go COGIC. I consider myself more Baptist, with Pentecostal fire!"
The decision to leave a lucrative job and pursue music wasn't without its personal consequences. "In that time, I lost my kids," he said. "My children's mother was so mad. She said: 'How could you leave this great job and say you are going to do music?' She was also uncomfortable because she said what I did didn't even sound like sacred music."
As Sir's family moved to Iowa, he remained in Chicago, sometimes sleeping in his Honda automobile. Every day, he questioned his decision to pursue music. But while driving for Lyft, Sir played his music on his car's CD player. "And a person would get in my Lyft, hear my music, and say 'this is special.'" Such positive feedback from passengers was confirmation he was doing the right thing.
His breakthrough came in 2015 when he released the single "Raise Hell." "I had opened up for Travis Scott, a really huge rap artist," Sir explained. "People were starting to hear about me. Then I did some music with Chance the Rapper. After that, I released 'Raise Hell' and, at that time, I could tag Leo Burnett, Chance the Rapper, Travis Scott, so BET premiered my video."
Sir secured $2,000 from a cousin and used it to hire a publicist for a few months. The following year, the song "Raise Hell" was featured in the film The Birth of a Nation. It was also nominated for Impact Track of the Year at the 2016 BET Hip Hop Awards.
Early on, Sir decided not to pursue the church circuit and, signing with Marty Diamond at Paradigm Talent Agency, chose the festival route instead. An industry veteran, Diamond has worked with the likes of Ed Sheeran, Coldplay, and Janelle Monae. "I wanted to pull my peers out of church because they have experienced so much pain and so much judgement," Sir said. "I was also determined to go find new people who wanted to know Jesus, and festivals were perfect because they were always at the festivals!"
It turned out to be a smart decision. "People were coming up to me after festival performances saying my music saved their lives."
From there, Sir signed with Craig Kallman, CEO of Atlantic Records. His first mixtape, 2017's Saint or Sinner, was released on Atlantic. Looking back, he said it was a tough album to make. "I was trying to balance the business and my community and I think I pulled it off, but I almost went crazy doing it."
Further, he said Atlantic couldn't quite understand his approach to sacred music. "They were like, 'Why are you talking about whatever you are talking about and calling it gospel?' But I think Saint or Sinner is a great balance between secular and sacred. And as long as I'm not undermining the human soul, I should be able to talk about what life brings."
As far as musical styles, Sir said that while "Heaven" "sounds like it was produced by Rodney Jerkins, the title song sounds like Lil Uzi Vert." The mixtape's explicit lyrics don't bother Sir because, he laughed: "Christians curse, too!"
In the end, he said, the church community embraced Saint or Sinner. "Heaven," featuring Donald Lawrence and Company, Keke Wyatt, and ChurchPpl, went to number 12 and hit number one in the Bahamas. "I wanted Donald on my album because he is a brilliant guy," Sir noted. "He is the example of where I want to be."
Donald Lawrence first came into contact with Sir when he heard him sing "The Nearness of You" with a Columbia College pupil of Lawrence's. The two artists connected. Donald and Sir played the popular Lollapalooza festival together. Lawrence added "Deliver Me," a Saint or Sinner track, on his 2019 Goshen album. For the Goshen version, which hit number one on Billboard, Le'Andria Johnson handled the lead vocal done by Brandy on the original.
Despite the popularity of Saint or Sinner, Sir remained at loggerheads with Atlantic and they parted ways. He took what he learned from the experience and now works with two or three key partners to, as he said, "keep my music working."
Sir has been a featured vocalist on releases by Kierra Sheard, Le'Andria Johnson, Ann Nesby, M.C. Lyte, Musiq Soulchild, Fred Hammond, and Jonathan Nelson—nearly all of whom share Sir's commitment to envelope-pushing gospel music.
Sir is adamant about fixing what he perceives as the limitations in gospel music and within the gospel music industry. "Gospel is not confrontational," he explained. "That's not where our spirituals derive from. To understand where gospel needs to go, someone has to be able to fight—say things and go places and create music that's not comfortable conversations for the church."
"Deliver Me" is one example. "There's a lot of abuse in the church. So the way I presented 'Deliver Me' [on Saint or Sinner] was as a story where a pastor allowed his daughter to get abused by her husband because they were building a church together. Donald changed it and made it more acceptable for the ears, but we need to accept the uncomfortable premise. We need to look at our failures."
Sir is also looking to make changes outside of music. "I have to focus on what the future is, and I don't think the future is buildings at all. I've been working on something that's more forward thinking than just going to church."
To this end, he has created a website called Tymple. "I want this to be the first public church where your tithing and your offerings have a return on investment. I'd also like to buy a few blogs and try to build my own Vatican for gospel music."
Things are looking up for Sir the Baptist. Though he and his wife are still separated, they remain friends, and Sir has reunited with his children. He has also gotten involved in local philanthropy through Bright Star Community Outreach, and persuaded Toyota to donate $50,000 to a local school.
In the meantime, he is working on new music. "The new album will be pretty amazing," he said, "because I'm going to do songs with churches, such as Dr. Byron T. Brazier's church [Apostolic Church of God]. And one track, "Me and God," features a BET Sunday Best contestant named Saint Ashley. "I didn't think such a big voice could come out of a little body!" he laughed. He's also received an offer to partner with the Clark Sisters on his next album.
"[On Saint or Sinner] I had Brandy doing gospel, I had Michelle Williams doing gospel. I would like to have Jay-Z and Beyonce do a gospel song. I'd like to grab more of my secular friends and have them do gospel songs."
He added: "If I can manage to fight through the nonsense, the politics, the poverty—because gospel music is very poor in infrastructure—I'll introduce the kingdom of God."
To learn more, visit www.sirthebaptist.com.