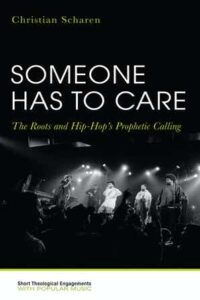 Someone Has to Care: The Roots and Hip-Hop's Prophetic Calling. By Christian Scharen. Eugene, Oregon: Cascade Books. 130 pp. (paperback). Illustrations, Notes, Bibliography. ISBN 978-1-5326-1217-6. $18.00
By Robert M. Marovich
As Christian Scharen observes in his new book, Someone Has to Care, the titles of albums by hip-hop group The Roots exist on three levels: as a barometer of The Roots' personal and creative state, as a commentary on the current status of hip-hop as an expressive art, and as a socio-political critique of longstanding oppression and suffering.
Employing the same rule of three, Scharen, author and pastor of St. Lydia's Dinner Church in Brooklyn, examines the career and impact of The Roots as a collaboration of talented musicians making creative music, as hop-hop artists navigating the shifting sands of their genre, and as cultural critics using their prophetic voice to declaim against the dehumanization of people of color.
For those who only know The Legendary Roots Crew from their weeknight appearances as the house band for The Tonight Show with Jimmy Fallon, Scharen's book provides a short but satisfying primer on the group's formation by Philadelphia High School for the Creative and Performing Arts students Tariq "Black Thought" Trotter and Ahmir "Questlove" Thompson—"the cool kid and the nerd." They embraced the emerging hip-hop scene not by focusing on sampling but by blending MCing with live music, brass instruments and all. It is particularly fascinating to learn about The Roots' relationship with the hip-hop collective known as the Soulquarians, whose alumni represent some of the most significant artists in hip-hop and neo-soul.
But the book is not solely a history of the Philly crew. Scharen's true objective is to examine "the roots of hip-hop and The Roots of hip-hop," and specifically how The Roots leverage their public platform to fulfill their "prophetic calling," that is, to use their gifts "to build a better, more joyful, and more equitable world." To make his point, Scharen structures his book, and thus chronicles The Roots' journey, on educator Dr. Tony Wagner's theoretical framework of "play, passion, and purpose" (a subject of Wagner's 2012 TEDx talk). Scharen encourages his readers to adopt this framework in finding their own passion, purpose, and prophetic voice.
Someone Needs to Care is well organized, well argued, a fairly quick read, and thought-provoking. Scharen illustrates his argument by reviewing sample selections from The Roots' growing catalog. I was surprised that, in identifying Thompson's family legacy of music, including his father, the wonderful tenor vocalist Lee Andrews of vocal harmony group Lee Andrews and the Hearts ("Long Lonely Nights"), Scharen doesn't mention Thompson's paternal grandfather, Beachey Thompson, a longstanding member of the gospel quartet the Dixie Hummingbirds. Also, one final sweep of copyediting could have rid the narrative of some eyebrow-raising typos, such as Jimmy instead of Jimi Hendrix, music critic Robert Christgrau instead of Christgau, and two instances of President Barack Obama as President Barak Obama.
Part history, part hermeneutic, part homily, Someone Needs to Care fits well within Cascade's Short Theological Engagements with Popular Music series.
Written by : Bob Marovich
Bob Marovich is a gospel music historian, author, and radio host. Founder of Journal of Gospel Music blog (formally The Black Gospel Blog) and producer of the Gospel Memories Radio Show.