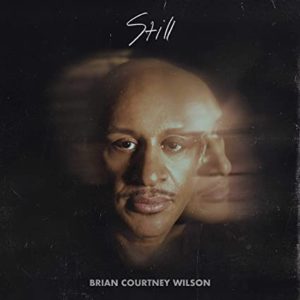 By Bob Marovich
Like all of us, Brian Courtney Wilson is navigating the raging tempests of 2020 as best he can.
He is also using his platform as a GRAMMY-nominated gospel singer, and specifically his new album, Still, to help others weather the storms of life. Wilson's fifth studio album comes out this Friday, October 16, on Motown Gospel.
"We are all in the same boat," Wilson told the Journal of Gospel Music. "I pray that Still helps people deal with the challenges they are facing now and the challenges they've been dealing with."
Given that the title track (and current single) was recorded prior to the national lockdown and the resurgence of Black Lives Matter protests, it seems eerily prescient.
"People sometimes mask their anxiety because they don't want to admit it," Wilson said. "There's shame attached to it. They need to know that they are not the only ones. After the choir sings and the pastor preaches, you are not the only one who is afraid. I hope people hear enough to be still and know that God is wonderful."
Wilson admits that using his voice to speak truth to power is a bit of a balancing act. "We've got to be humble about the fact that truth is revealed. That sometimes you don't have the whole truth, you only have a piece of the truth. Everybody's got different levels of truth. You've got to be humble that people have different perspectives."
This was on his mind when deciding whether to record Marvin Gaye's iconic protest anthem, "Inner City Blues (Makes Me Wanna Holler)."
"It was supposed to be for a Motown tribute," Wilson explained. "I always admired the song but, given everything that's going on, I didn't want it to look like I was trying to exploit the troubles. You never want to betray your audience's trust. I didn't want to offend anyone, but then again, I needed to speak from my heart. And I believe this song is what's called for right now."
Another album selection with Motown flavoring, "Sure As," almost didn't make the album. "I had some reservations at first about going with that song," Wilson admitted. "I didn't want it to look like I was trying to do a Stevie Wonder-style song. But at the same time, I wanted to express that we need to lean on the promise of God in our lives."
Wilson wrote, or collaborated on, several of the tracks. One partnership, with fellow GRAMMY nominee Jeff Pardo, produced the CCM-flavored "Fear is Not Welcome." The song, Wilson said, is "kind of a style departure for me, but in a good way."
The album's high point is Wilson's duet with Maranda Curtis on "Ain't No Need to Worry." Turns out this cover of Anita Baker and the Winans' 1987 collaboration was inspired by Donald Lawrence.
"Donald contacted me online and said he would love to hear Maranda and me do a remake of 'Ain't No Need to Worry'," Wilson said. "He didn't know what I was working on or anything like that. He even named the producer, Jeff Savage. So I got Jeff on the phone. I got Maranda on the phone. God's providence was revealed in the middle of it."
Wilson continued: "I love listening to Maranda, period. I want people to sing so others can believe them, that they can trust them. I hear that in Maranda and in the song."
To encourage himself during these times, Wilson said: "I've been praying for mercy a lot. I think people sometimes don't realize that what's good for them is hurting others. And I also have hope. I draw it from every breath I take. It became acutely aware for me during this pandemic, when people's lungs were literally under attack. So now every time I breathe, God is giving me a great gift that I cannot ever repay.
"Plus, the opportunity to help others, to do something good, something positive, something that touches other people–that gives me hope."
Written by : Bob Marovich
Bob Marovich is a gospel music historian, author, and radio host. Founder of Journal of Gospel Music blog (formally The Black Gospel Blog) and producer of the Gospel Memories Radio Show.