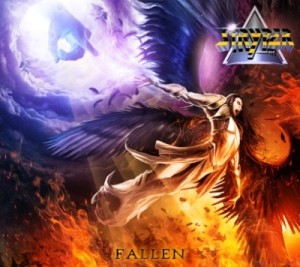 Stryper
Fallen
Frontiers Music srl (release date: October 16, 2015)
www.stryper.com
By Bob Marovich
For Christians about to rock, we salute you.
Immediately following the Gothic a cappella harmonies that open Fallen, Stryper's eleventh full-length original album, the four-man Christian metal band rock relentlessly until the CD screeches to a stop some fifty minutes later.  Guitars thrash, gnash, and gnarl, drums and bass craft complex rhythmic shapes, and Michael Sweet lofts soaring cries and glass-shattering high notes into the heavens.
The godfathers of Christian metal deliver the goods on every track of Fallen. "Yahweh," written with Clint Lowery of Sevendust and Call Me No One, tells the Passion story with passion. The group gives Christ's crucifixion the gritty realism of The Passion of the Christ, the film that helped inspire the song. Likewise, "Let There Be Light" chronicles God's creation of the world in sonic Cinemascope.
If you think about it, Christian heavy metal is not as far-fetched as it seems. Traditional heavy metal bands regularly cull thematic material from pre-Christian mythology or stories inspired by pagan epics. Stryper simply supplants the mythological stories for Biblical stories and heroic lessons while maintaining the unyielding hard rock sound.
In some instances, the similarities outweigh the differences.  One of the most interesting moments on Fallen is when Stryper covers Black Sabbath's "After Forever." Millennials may only know Ozzy Osbourne as a doddering, mostly incoherent reality television father, but in the 1970s, Osbourne and Black Sabbath set the standard for legions of hair bands with their buzzing, sinister guitars, incendiary percussion, and dark lyrics. On "After Forever," however, the focus is on the light, on preparing one's soul for the hereafter or, as Stryper comments cunningly, "Is it too late?"
"Love You Like I Do" also turns on a parenthetical expression. The song's protagonist is God himself, expressing love for his people while noting ruefully, "if only you just believe it."
In addition to "Yahweh" and "After Forever," the album's most memorable track is the slow rocker "All Over Again." Although ostensibly a love song, the selection employs a tuneful '70s pop vibe to express gratitude for a life well lived. It could just as easily serve as a love note from the group to itself, for more than 30 years of sharing the love of Jesus with such honesty and insistence that speakers collapse in clip.
Four of Five Stars
Picks: "Yahweh," "All Over Again."
Written by : Bob Marovich
Bob Marovich is a gospel music historian, author, and radio host. Founder of Journal of Gospel Music blog (formally The Black Gospel Blog) and producer of the Gospel Memories Radio Show.