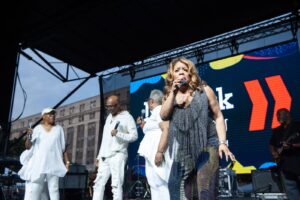 NEWARK, NJ (August 8)— The 15th Anniversary Lincoln Park Music Festival, Newark NJ's "best kept secret," continues the city's rich history of Gospel music in an outdoor "Black Church revival style" experience.
The historic downtown neighborhood of Lincoln Park (named after President Lincoln in the 1800s), was home to Sarah Vaughan, who cut her singing chops at Mount Zion Baptist Church. In modern times, it has been the home of the annual "Gospel In The Park" night at Lincoln Park Music Festival, which has featured legends Donald Malloy, Cissy Houston (The Drinkards), Rev. Milton Biggham, Joshua Nelson, and the Clark Sisters.
The recent 15th Anniversary festival kicked off its week of free outdoor concert series with "Gospel In The Park," featuring Provenance Music Group, who stunned the crowd with a surprise appearance by Grammy nominated R&B legend Valerie Simpson.
As one-half of American husband-and-wife songwriting-production team and recording duo of Nick Ashford and Valerie Simpson, Simpson was inducted into the Songwriters Hall of Fame in 2002 and, with Nick Ashford, recipient of The Rhythm & Blues Foundation's Pioneer Award, ASCAP's Founder Award, and the Grammy Trustee Award.
Provenance Music Group is an internationally-renowned gospel music ensemble that has shared the stage with a myriad of noted performers and with rising celerity and captivated live audiences through their nationally broadcasted television appearances in Newark, NJ; London, UK; Barbados; Japan; and Bobby Jones Gospel.
The 15th Anniversary Lincoln Park Music Festival's "Gospel In The Park" night was hosted by Rev. Kevin E. Taylor of Unity Fellowship Church and former BET Networks producer/showrunner (Lyrically Speaking, Access Granted and Notarized: Top 100 Videos of the 20th Century); and recently elected City of Newark Councilwoman At Large Rev. Louise Scott-Rountree. The daughter of entrepreneur Louise Scott,  Councilwoman At Large Scott-Rountree grew up in Newark's landmark historic Krueger-Scott mansion.
Written by : Bob Marovich
Bob Marovich is a gospel music historian, author, and radio host. Founder of Journal of Gospel Music blog (formally The Black Gospel Blog) and producer of the Gospel Memories Radio Show.