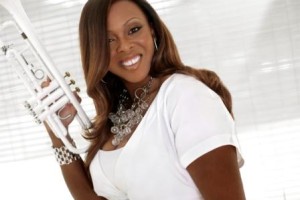 By Bob Marovich for The Black Gospel Blog.
Syreeta Thompson is in a class by herself.
Literally.
The Chicago-born artist is the only female gospel singer who plays trumpet.
Even the trumpets she carries are distinctive: one is white, the other red.
Syreeta picked up the trumpet at age twelve, she told TBGB during a visit to Chicago last weekend. There was one caveat. "In order for me to play trumpet, my mother said I had to play it in church. So I sat in the corner with the other musicians at the True Church House of Prayer of All Nations. Organ, drums…and trumpet!"
When Syreeta's mother, an auditor for the IRS, saw her daughter's growing passion for the instrument, she enrolled her in classes at Chicago's Sherwood Conservatory of Music. From there, it was a dizzying schedule of classes and performances: from school band to the Merit Music program, all-city band and Roosevelt University's storied Chicago Musical College.
Over the years, Syreeta honed her skills at the feet of jazz greats such as Von Freeman, Orbert Davis and New Orleans' legendary Alvin Battiste. She earned a masters degree in jazz composition and performance at New York University and also attended Rutgers University. At Rutgers, she studied with Bill Fields whose roster of pupils included trumpet superstars Wynton Marsalis and Terence Blanchard.
Although skilled in jazz, Syreeta was also church-bred. Thus, in the same breath with which she mentions jazz giants Freddie Hubbard and Lee Morgan, she also counts Bishop Hezekiah Walker, Dorinda Clark Cole and the Clark Sisters as influences. Syreeta's first project, Gabriel's Praise, was funded by a $7,000 gift from a family friend and introduced her distinctive jazz interpretation of gospel music to the industry. In 2007, the album received a Stellar Award nomination for Instrumental CD of the Year.
Being in a class by herself has its plusses and minuses. "My music is well received in churches," Syreeta said, "but it has been difficult breaking into the mainstream of the gospel industry. The harsh reality is there is not a huge market for gospel jazz. Radio won't embrace it because there's not a big demand, and some churches are not used to hearing this type of gospel style."
Another aspect of the problem, Syreeta added, is that the large supply of gospel artists outweighs the limited number of media opportunities to get heard. "Everybody is scrambling to get on the same radio stations and secure the same show dates."
But at the same time, she said, "I've been very successful given where I'm at in my career because I put a different spin on things: I play trumpet and sing."
Earlier this year, Syreeta released her sophomore CD, In His Presence. She noted that the project "has more momentum industry-wise" than its predecessor. The album's first single, "Victory," is garnering radio spins in West Palm Beach, Birmingham, Baton Rouge, Jacksonville (FL), Philadelphia, Louisville, Nashville, San Antonio, Baltimore and the Carolinas.
Asked to explain gospel jazz, Syreeta laughed. "I could talk for hours on this subject! From a musical perspective, one of the only differences between gospel and jazz is the lyrical content. After all, Middle C is middle C, no matter what kind of music you are playing. But," she adds, "jazz uses swinging eighth notes, and major sevenths in a major seventh chord. You don't hear that often in gospel. If you play these notes in a gospel context, people call it jazzy."
The bottom line, Syreeta said, is that gospel jazz is not just instrumental music but incorporates the finer points of jazz as a rich and nuanced art form. She recommends that gospel artists who want to incorporate jazz into their style take the time to study jazz. "I love studying music, rhythms, and genres of rhythms," she said. "I love what a human voice, with all its different textures, can do for a hymn."
Syreeta has a common sense to-do list for the emerging gospel artist, jazz or otherwise. "Get a regular job. Don't quit that job. Do a good job at your job, too, cultivate a solid work ethic. Learn the mechanics of music, including the business part of it. Know the role of the artist in the business. Understand where you are in your music and don't let anyone take you farther than where you are at. Stay in your lane!"
These principles have worked for her. In addition to performing, recording and touring, Syreeta serves as department chair of instrumental music for the Cicely Tyson School of Fine and Performing Arts in East Orange, New Jersey. "No one becomes an overnight success," she concluded. "It amounts to being successful where you are comfortable in your craft right now and, once successful, maintaining it. Above all, stay rooted and grounded in who you are and what you do."
For more information on Syreeta Thompson, visit http://www.trumpetlady.com/.
Written by : Bob Marovich
Bob Marovich is a gospel music historian, author, and radio host. Founder of Journal of Gospel Music blog (formally The Black Gospel Blog) and producer of the Gospel Memories Radio Show.