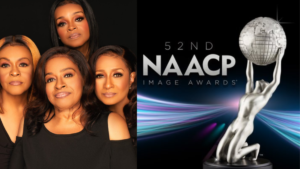 (DETROIT, MI) March 30, 2021— Karew Entertainment celebrates a major win at the 52nd Annual NAACP Image Awards. The legendary gospel group The Clark Sisters won "Outstanding Gospel/Christian Album" for their album, The Return.
This is the group's second NAACP Image Award win (first one being Outstanding Gospel Artist in 1983). The album has received praise from fans across the globe, and their current single "His Love" with Snoop Dogg, is charting top 5 on Billboard. "His Love" was written by group members Karen Clark Sheard and Dorinda Clark Cole, along with J. Drew Sheard II (producer), Kierra Sheard, R&B singer Faith Evans, and rapper Snoop Dogg. The album also includes collaborations with mainstream producers Jermaine Dupri, Rodney "Darkchild" Jerkins, Warryn Campbell, J. Drew Sheard II, Mano Hanes, and Kurt Carr.
J. Drew Sheard II, President and CEO of Karew Entertainment, shares his excitement about the group's win. "This win means everything to us because it's an honor to be celebrated by our own community, and that's the best feeling ever. We would like to thank the fans for voting for The Clark Sisters and the Image Awards committee for recognizing our work. We have been blessed with an awesome team here at Karew that has also worked incredibly hard on the project."
The Return is available on all streaming digital platforms and physical copies can be ordered on Amazon, Target, and Walmart.
Written by : Bob Marovich
Bob Marovich is a gospel music historian, author, and radio host. Founder of Journal of Gospel Music blog (formally The Black Gospel Blog) and producer of the Gospel Memories Radio Show.