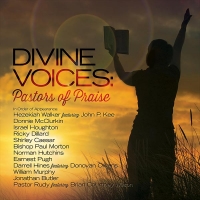 Various Artists
Divine Voices: Pastors of Praise
Rendezvous Music (release date: January 27, 2015)
www.mackavenue.com
By Bob Marovich
There are preachers who sing and singers who preach.  Divine Voices: Pastors of Praise includes some of both.
This new various artists compilation comes from Mack Avenue Records, a label which features gospel jazz on its Rendezvous imprint and last year released two similar compilation discs: Gospel Praise Duets and Christmas Goes Gospel.
Divine Voices reprises a dozen recent selections, mostly from individuals who began as singers and added ministry to their resumes later. Many of the contemporary biggies are present; the most prestigious coupling is Hezekiah Walker and John P. Kee, who turn in an energetic word of encouragement on "Work in Your Favor." Donnie McClurkin adds the equally vigorous "Trusting In You," while Israel Houghton's big hit, "Jesus at the Center," injects the Praise and Worship factor.
Jonathan Butler's lovely and melodic "I Stand On Your Word" is a ballad of unquestionable faith in God and among the compilation's highlights. Another top-notch performance comes from Pastor Shirley Caesar. Her shouting vocals on the James Fortune-penned "God Will Make a Way," and the song's overall mood of contemplation, result in an aural mash-up of generations. Bishop Paul Morton has a cry in his voice on his ballad of encouragement, "Your Best Days Yet." In fact, there are enough songs of encouragement on this album that it could easily have been subtitled Pastors for Hope.
You either have the songs on this compilation or you don't. If you don't, this is an excellent way to get them because the sequence and combination are well considered.
Four of Five Stars
Picks: "I Stand On Your Word," "God Will Make a Way."