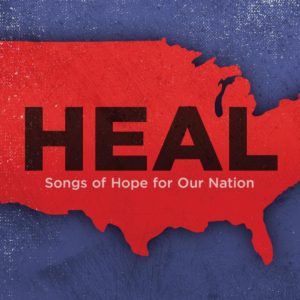 Various Artists
Heal: Songs of Hope for our Nation
Motown Gospel (release date: January 13, 2017)
www.motowngospel.com
By Bob Marovich
Gospel music often functions as protest music.
Either explicitly, as during the Black Power Movement of the late 1960s, or implicitly, with semi-coded lyrics like the spirituals before them, gospel songs fight back against an oppressive world with messages of faith and encouragement that trouble won't last always.
Heal: Songs of Hope for our Nation from Motown Gospel offers ten examples of how contemporary gospel music is poised to carry on the fight against evil and oppression in today's uncertain political climate.
The album's new selection and its finest track, "Heal (Find a Way)," by Brian Courtney Wilson, is part contemplation and part prayer. One of the smoothest voices in gospel music today, Wilson croons that as "people are taking sides" and "tensions rise," prayers for peace and wisdom can "rip down walls."
Other tracks cover similar ground. The bridge of Janice Gaines' "Make A Way" (from Greatest Life Ever) notes "My faith lets me know that it will be okay / May take a minute, but I believe it's on the way."  Sheri Jones-Moffett sings about how a life-transforming idea can rise from the wreckage of lost jobs, foreclosed homes, and incurable disease ("It's Not Too Late to Dream" from Renewed – possibly the first gospel song to include the word "entrepreneur" in its lyrics).
Tasha Cobbs and VaShawn Mitchell individually pledge unfailing confidence in God because He's never wrong and He has our back ("Confidence" from Grace and "Watching" from Unstoppable, respectively).  Reacting to the cacophony of modern society, the maestro of melisma Smokie Norful shouts on "Don't Quit" (from Smokie Norful Live): "I was looking at CNN but I can't let that bother me or hinder me."
Another interesting aspect of Heal: Songs of Hope for our Nation is how Motown Gospel is either consciously or unconsciously following the lead of major pop labels: assembling brand new digital albums out of catalog material.  This way they can offer new music from popular artists and introduce a wider audience to others on its roster. In this case, someone who likes Brian Courtney Wilson will get a chance to sample the music of Royce Lovett, and vice versa.  The industry used to call these kinds of compilations "loss leaders," but in the digital age, there's not much to lose.
Whether the nation will heal, only time will tell. Meanwhile, the elephant is still in the room. And despite the current commentary about the demise of gospel music, rest assured it will always be there to sound the trumpet of Jericho to knock down walls that try to stop or separate us.
Four of Five Stars
Pick: "Heal (Find a Way)"
Written by : Bob Marovich
Bob Marovich is a gospel music historian, author, and radio host. Founder of Journal of Gospel Music blog (formally The Black Gospel Blog) and producer of the Gospel Memories Radio Show.