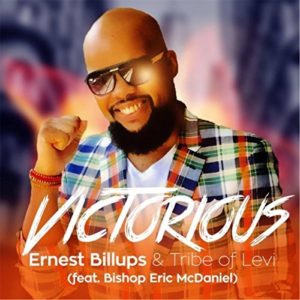 "Victorious"
Ernest Billups & Tribe of Levi feat. Bishop Eric McDaniel
E'mazin Entertainment (released August 2016)
www.emazinentertainment.com
"Victorious" is a spirited litany of positive affirmations from Ernest Billups and his sprightly vocal group Tribe of Levi.
It is also Billups's testimony of how God has granted him victory over personal challenges–that no matter how bad things are, God will help you overcome them.
Using the "no weapon formed against you shall prosper" Scripture for support, Billups & Tribe of Levi tell the enemy what they really think of him. Then Bishop Eric McDaniel, pastor of The Lord's Church in the Bronx and North Carolina, turns up the temperature with high-voltage declarations of victory and gratitude for God's constant support.
New York's Ernest Billups is following in the footsteps of his mother, independent gospel artist Angela "Missy" Billups. He and his crew are planning a Victory Tour of the U.S., starting this June.
Written by : Bob Marovich
Bob Marovich is a gospel music historian, author, and radio host. Founder of Journal of Gospel Music blog (formally The Black Gospel Blog) and producer of the Gospel Memories Radio Show.