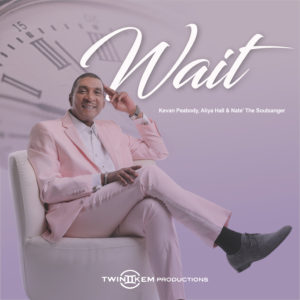 "Wait"
Kevan Peabody
Twinkem Productions
(release date: October 16, 2020)
www.twinkemp.com
By Robert M. Marovich
Taking Proverbs 3:5-6 in part for his text, veteran gospel singer Kevan Peabody implores listeners on "Wait" not to despair but to trust and "wait on the Lord."
To a traditional-flavored but sonically robust arrangement featuring piano and warbling organ, Peabody croons his declarations in a mellow tenor peppered by blues notes. "Trust and never doubt," he sings, "God will always bring you out." The song, written by Steven Roberts, has the feel of a church solo augmented by a full studio backing.
Bay Area resident Kevan Peabody has worked with some of gospel's top stars, including the Reverend James Cleveland, Edwin Hawkins, and Ambassador Dr. Bobby Jones. He is an alumnus of the famous Voices of Christ, directed by Helen Stephens, and helped coordinate the 1989 Savoy Records album Breathe on Me by the combined Northern and Southern California Choirs of the Gospel Music Workshop of America.
Written by : Bob Marovich
Bob Marovich is a gospel music historian, author, and radio host. Founder of Journal of Gospel Music blog (formally The Black Gospel Blog) and producer of the Gospel Memories Radio Show.