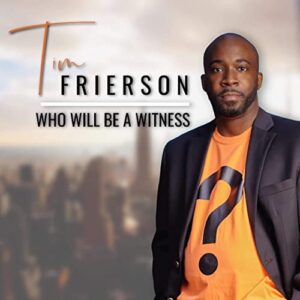 "Who Will Be a Witness"
Tim Frierson
Independent (March 7, 2021)
By Robert M. Marovich
Although ostensibly a solo outing, "Who Will Be a Witness" by Tim Frierson shares plenty of DNA with quartet singing in its arrangement, its melody, its lyrics, and in the call-and-response between Frierson and the harmonizing background vocalists.
Frierson takes his inspiration from Matthew 5:16. To a swaying, slow-motion tempo, he asks who will let their little light shine for the Lord? The song's traditional sensibility, including Frierson's own gravelly delivery, is given a modern treatment via a rhythm section built on a booming (maybe a little too booming) bass guitar. The tempo gives Frierson plenty of room to work, but he keeps things measured, focusing on the lyrics, not on vocal gymnastics.
Tim Frierson hails from Tupelo, Mississippi, the town that brought you Lee Williams, Elvis Presley, and the Golden Wings.
Written by : Bob Marovich
Bob Marovich is a gospel music historian, author, and radio host. Founder of Journal of Gospel Music blog (formally The Black Gospel Blog) and producer of the Gospel Memories Radio Show.