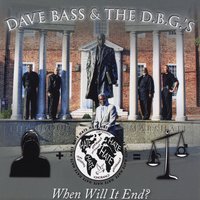 "When Will It End?"
Dave Bass & the D.B.G.s
DNB Associates, Inc. (2013)
www.cdbaby.com/cd/davebass2
DC-area gospel soloist Dave Bass recorded "When Will It End?" in 2013 after the death of Trayvon Martin. Since the song's message, "the way you look can change your fate," rings just as true four years later, he's putting it back front and center to call more attention to the need for justice and truth.
Bass's stinging line about Martin, "only seventeen, went for a snack / a brief encounter, never came back," subconsciously evokes "The Ballad of Emmett Till," a 1956 recording by Scatman Crothers' (aka the Ramparts) about the brutal murder that helped give rise to the modern Civil Rights Movement.
The D.B.G.s (Dave Bass Group) offer soulful R&B musicianship and occasional vocal harmony. A song you could also hear Toussaint McCall singing.
Written by : Bob Marovich
Bob Marovich is a gospel music historian, author, and radio host. Founder of Journal of Gospel Music blog (formally The Black Gospel Blog) and producer of the Gospel Memories Radio Show.