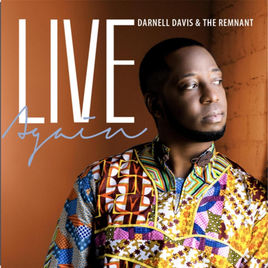 By Bob Marovich
From the outside, it appeared as if Darnell Davis was on top of the world.
He and his gospel group, Remnant, had signed with a major label, RCA Inspiration. They earned Dove Award and Stellar Award nominations for their 2014 release, Moving Forward. The CD cover photo depicted a smiling, confident Davis, mid-stride into a promising future.
But in the midst of this, Davis was going through a divorce. It felt "like a physical death," he told JGM. "Two people being literally ripped apart." Those he thought were his friends stopped speaking to him.
"I had to minister to people," Davis explained, "but at the same time, I'm feeling as if I'm the most hurt in the building. Many times I wanted to say, 'Hey, I'm done with this.'"
This rough patch, and Davis's emergence from it, influenced the songs included on Live Again, the new album from Darnell Davis and the Remnant, released August 11.
Born and raised on the south side of Minneapolis, Minnesota, Darnell Davis was exposed to gospel music initially through his mother's singing in choirs as well as a gospel quartet comprised of his grandfather and some uncles. "Gospel music, and music generally, was a part of my family," Davis said. "If you grew up in my house, Sunday morning, gospel music was on!"
He attended Emmanuel Tabernacle Church of God in Christ, under the leadership of Bishop Stanley Neil Frazier. At age 10, he began accompanying Emmanuel Tabernacle's Sunshine Band and youth choir, both of which his mother directed.
But despite his involvement in the church's music ministry, Davis did not envision a future as a professional gospel musician and singer.  Things changed when, at age 15, he was asked to accompany a local group called Minneapolis Gospel Sound (MGS). "Their keyboard player left to go on the road with another Minneapolis choir, Sounds of Blackness," Davis explained. His godfather, Chico Cockrell, recommended he replace the MGS keyboard player.
Around that time, Davis also began writing songs. One composition was "Keep Smiling," a song to encourage people who feel blue during the holidays. MGS put it on their Christmas record. From there, Davis ended up working on a number of MGS albums.
In addition to backing MGS, he and the band of musicians also supplied the accompaniment for Minneapolis gospel choir Excelsior.  Davis's involvement with Excelsior intensified after another original composition, "Heaven," caught the ear of bassist (and basketball player) Wayman Tisdale.  Originally written for Davis's then-wife to sing, "Heaven" was tapped by Tisdale for gospel singer Terralyn Ramsey's eponymous debut album for Verity Records. Excelsior's vocal support of Ramsey on the song captured Verity's attention. They wanted to know who the choir was, and when they found out, signed them.
Excelsior went on to garner a Stellar Award for Best New Artist and a Dove Award nomination for its 2001 album, God @ Work. It earned a Grammy nomination for the follow up, Soul Interpretations. Davis was a writer and producer for both projects.
In the early 2000s, Davis formed his own group, called Remnant, from a community of local gospel artists. "It started out as a group of six meeting in the basement of my house and after two rehearsals, it became a choir of 15," Davis laughed.
But in 2005, Davis's brother (and a member of Remnant) passed away at age 37. Diagnosed with pancreatic cancer on November 3, it spread to his liver; he died on November 27. Davis was at his brother's bedside when he took his last breath. The death left him devastated as well as conflicted. "Our family is close but we're not a touchy-feely family," Davis said, "and I regretted not saying 'I love you' to [my brother]. That stuck with me from that time until now."
This was the family's second tragedy. When he was 14, Davis learned that his nineteen-year-old brother was shot and killed by a Dallas police officer. Around that same time, Davis' father took off.
So after the divorce, Davis began talking with a counselor. "There were issues in life I had not dealt with, and one was the passing of my brother," Davis said. "I had to deal with abandonment, rejection issues. I had to bring closure to these things in my life."
He adds: "I encourage people to go [see a counselor]. The church doesn't always agree with that, but I encourage people to go talk with someone. I'm recovering and in a space where I can live again. I have a second chance, a second wind."
Davis wrote all of the songs on Live Again except for "I'm Still Here," which he co-wrote with Remnant member Darnell Nolan; and a remake of Edwin Hawkins' "Jesus I Love You." The title track is the current single.
Davis feels Live Again is his best record to date. "I'm in love with the record because I know the backstory of how it came about."
In particular, he is pleased that the album showcases Remnant's more mature sound as well as its growth in musicality. The album also offers a variety of sounds—from reggae to an old church stomper ("I'm Still Here"). About the latter, he laughs: "Growing up COGIC, you would think I'd have a song like that on every record, but of all our records, this is the first song I've written like that!"
Davis looks forward to taking the message of Live Again across the country to encourage others.  Referencing the story of Lazarus, Davis said: "Just because something seems dead, that's not the end, so get up and live."
Written by : Bob Marovich
Bob Marovich is a gospel music historian, author, and radio host. Founder of Journal of Gospel Music blog (formally The Black Gospel Blog) and producer of the Gospel Memories Radio Show.