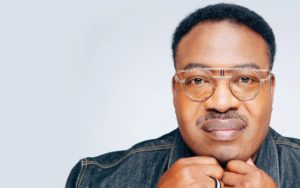 By Robert M. Marovich
"He may not come when you want Him, but He's always right on time."
This church aphorism could be Pastor DeWayne Harvey's personal motto.
The early 2010s were a busy time for the Tallahassee, Florida, minister, entrepreneur, singer, songwriter, and producer. His 2011 release, The Report of the Lord, featuring the praise team from his Greater Blessings Tabernacle of Faith Church, was doing well. The album's singles, "Whose Report" and "Celebrate," were burning up gospel radio. Harvey also wrote and produced Angela Spivey's 2012 album, He Keeps His Promise, for his Innovative Records imprint.
So by 2015, Harvey felt it was time to record another album. He reached out to gospel superstar Fred Hammond to do a song on the new project. But it was not to be—at that time.
"I got frustrated with the people I was working with," Harvey shared with the Journal of Gospel Music. "I called Fred back and said it was off. I thought it would be maybe a couple of months and I would get back to it.
"It turned into six years."
On January 29, 2021, Harvey put out a single, "What the Lord Allows," featuring guest vocalist Fred Hammond, on Innovative Records. It is the title track of his forthcoming solo album, DeWayne Harvey and Friends: What the Lord Allows, set for release by year-end.
It's not as if Harvey didn't have enough on his plate over the past six years. In addition to pastoring and running his record company, he was operating a network of local healthcare centers, nursing homes, independent living centers, and assisted living centers. He earned a registered nurse degree. "My love for music hadn't changed, as I was singing every Sunday," he said. "I just put it to the side."
But for Harvey, music "on the side" wasn't enough. The inability to do more than sing on Sundays was eating away at him. "I got frustrated with God," he admitted. "I was angry: 'Why are you allowing this to happen?' Then one Sunday I was going to church. I walked up the steps—I'm still angry at God—and all of a sudden I began hearing this song in my head, 'What the Lord Allows.' I taught it to the praise team in like five minutes, and we sang it in service that day."
Harvey has been toying with the idea of a solo album for nearly a decade. "I used to hide behind groups, behind other people," he explained, "and so when I would release an album, I might sing one song on it, but I didn't sing the majority of the songs. This time, the Lord told me He wanted to use me, use my gifts. It was time to do my solo album."
Despite his willingness to step out to the lead mike more frequently, Harvey still wanted to include featured vocalists on his singles and album. He redialed Fred Hammond and asked him to guest on "What the Lord Allows." "To my surprise, Fred said, 'I heard this song before.' I said, 'Fred, remember when you came to Tallahassee, I opened up for you? This was the song I sung!' It was amazing he remembered the song!"
Harvey produced "What the Lord Allows" with Etienne "EJ" Porter, who has been with him for a good part of the past two decades. All the recording took place during the pandemic. The Greater Blessings Praise Team serve as the song's background vocalists and laid down their tracks at the church in Tallahassee. Lead vocals were recorded in Sarasota and Hammond's contribution in his Dallas studio. The accompanying video was shot in Dallas.
To Harvey, "What the Lord Allows" is a "right now" song, relevant to the times in which we live: "The song says you can't preach faith and not have faith. Whatever He allows us to enter, He has a rhyme and a reason for it. We may not know it when we are going through it, but one day we will understand. Meanwhile, we have to make the best of it."
Having officiated the homegoing services of several family members who succumbed to a variety of diseases over the past year, Harvey takes personal consolation in the song's lyrics. "Pastors grieve too," he said. "I was asking God the question, 'Why is this happening?' He kept reminding me, "What the Lord allows is what you need. You may not see it now but it's making you who you need to be."
Another single and album track, "Ever Really Wonder," features Jasmine McClover. The young vocalist came to Harvey's attention when she began attending Greater Blessings while earning her degree at Florida A&M. She joined the praise team. "When you work in the vineyard with me," Harvey said, "and I know you are talented and anointed, I want to make sure that your gift will make room for you."
To that point, McClover has been added to the Innovative Records artist roster, along with Spivey and possibly a few other prospects. He also plans to release an album with Unrestrained Praise, his former group. "But I'm not going to have more than three or four artists on the label at one time," he noted. "I really want to work these artists."
Other guest vocalists slated for the new album include Spivey, Minon Bolton, and—Harvey hopes—Kelontae Gavin. "I've been more of a traditional type writer," Harvey said, "but this solo project is far from contemporary and some would say even urban."
He added: "Most of the time I don't sit down with a pad and pen and write songs. I'm going through different stages of my life, and I'm talking to God and He answers me through song. They come real quick. I don't know what kind of stereo comes from Heaven, but when the music starts playing in my head, it's the best music you ever heard in your life."
For more information, visit https://dewayneharvey.com/home.
Written by : Bob Marovich
Bob Marovich is a gospel music historian, author, and radio host. Founder of Journal of Gospel Music blog (formally The Black Gospel Blog) and producer of the Gospel Memories Radio Show.