"If God gave me the gift to sing, why not use it?"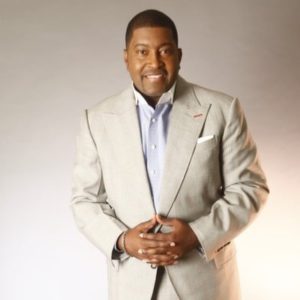 By Robert M. Marovich
There's almost nothing that Dr. E. Dewey Smith hasn't accomplished.
A graduate of Morehouse College who went on to earn masters and doctorate degrees, Smith is an author, media and film producer, community leader, co-host of the first daytime faith-based panel talk show, and Senior Pastor of House of Hope Georgia, which touts no less than three locations.
He is now adding vocal soloist to his resume. Released in March 2021, "Your Presence is a Gift" is Smith's debut single. Late last month, JGM caught up with Dr. Smith to discuss his newest endeavor.
Smith wrote "Your Presence is a Gift" with Darius Paulk, Natalie Sims, Jules Bartholomew, Elvis Williams, Andrea Fisher, and John Webb Jr. (Webb also produced the track). The team's concept caused Smith to reflect on an especially devastating time in his life. In the space of 28 days in early 2016, he lost his godmother, his mother, his sister, and his best friend from college. He preached their eulogies. Then, four days after his sister died, his brother suffered a massive stroke.
"To say I was traumatized is an understatement," Smith said. "I sank into a deep, dark place. My faith had been tested like never before. I believe in God and never lost my faith, but the pain was agonizing. I didn't handle it well. I went into a depression, and sought counseling but still couldn't shake it."
Smith said that a year later, the Lord spoke to him: "You've been fixating on your mom's absence and not appreciating my presence. Although you are going through trauma, don't commiserate on what you lost—celebrate what you have left.'"
That was the message Smith wanted to insert into the song. "It was the perfect example of my journey," he said. "And then, looking at the loss from COVID-19—we buried fifteen family members and I also lost people in my congregation—it was my way of saying to those who, like me, are going through grief, that maybe if we don't fixate on absence, we can appreciate God's presence."
But if Smith's professional gospel singing career is new, his pursuit of music is not. A music lover his entire life—"my dad put a guitar in my hand when I was three"—Smith took piano lessons at five, joined the church choir, and learned keyboards. In high school, he played in an R&B band called Main Event. He also sang with the Silver Bell Singers, a local quartet, and participated in community choirs in his hometown of Macon, Georgia. He directed the choir at his father's Macedonia Baptist Church. His favorite singers growing up included Sam Cooke, Luther Vandross, the Canton Spirituals, James Cleveland, and Yolanda Adams.
Like his father and grandfather, Smith aspired to pastoral ministry. He began preaching at seventeen and became a pastor two years later. He set his music aspirations aside after some of his mentors recommended he focus solely on ministry. "People wouldn't respect me as a minister if they could only see me as a musician," Smith remembered the elders telling him.
But music was in his blood. His father played guitar and sang with the Morning Stars of Macon, Georgia, a group his grandfather founded in the 1940s. The famous Cotton Brothers quartet come from his mother's side of the family. So, Smith considered: "If God gave me the gift to sing, why not use it?" From that point, he decided to not let others' ideas limit him and pressed forward.
The team recorded "Your Presence is a Gift" last October. It is the first release on Smith's new imprint, Pebble Street Records; the name of the company pays tribute to the street in Macon where he grew up. Zebulon Ellis, one of Smith's former worship leaders and a BET Sunday Best finalist, assembled the background singers, including Zaviel Janae, for the session.
Smith's debut solo album is due out on Pebble Street later this summer. He said it will explore a variety of sacred styles, from quartet to church hymnody to contemporary praise music. Featured soloists are still being finalized but Smith hinted at some important names.
For now, listeners can check out "Your Presence is a Gift." I wanted this song to be the first one," Smith said, "because I wanted people to know that no matter what you have lost, God's presence is a gift."
For more information, visit: www.edeweysmith.org.
Written by : Bob Marovich
Bob Marovich is a gospel music historian, author, and radio host. Founder of Journal of Gospel Music blog (formally The Black Gospel Blog) and producer of the Gospel Memories Radio Show.