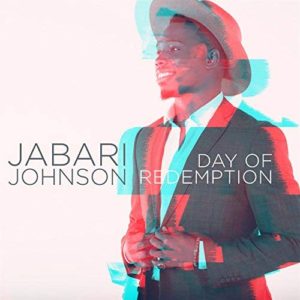 By Bob Marovich
It's not unusual to hear how a gospel song touched someone's life. Every now and then, you even hear about how a gospel song saved someone's life.
But what about when a song saves the life of its own creator? That is the story behind "Have Your Way," the new single from singer, songwriter, and musician Jabari Johnson.
"Two years ago, I was getting ready to commit suicide," Jabari said. "But God gave me the lyrics [to 'Have Your Way']. I sang the song at an event in Houston that night, and my breakthrough happened. Ever since then, it's been up for me."
Jabari spoke to the Journal of Gospel Music while in Chicago promoting his debut solo album, Day of Redemption (Light Records/eOne).
The twenty-six-year old from Houston, Texas, was baptized in gospel music attending Norton Temple Church of God in Christ. "My mom is a missionary and my dad is a deacon," he said. "We grew up singing congregational hymns and quartet music ."
He also grew up listening to a wide range of gospel and R&B artists, including John P. Kee, Willie Neal Johnson, and Shirley Caesar ("My style came from those guys"). Other inspirations include James Brown (whose birthday he shares), Prince, and Tye Tribbett–"because of their energy."
Jabari and his brother Nicholas started playing ukulele at the age of three because it was a stringed instrument more proportionate to their size. But when Jabari received a purple Fender Squier, "I threw the ukulele to the side!" Jabari and Nicholas sang as the Johnson Brothers gospel quartet for about twelve years. They even made a record, "which will never be heard," Jabari laughed.
At age sixteen, Jabari wrote his first song, "Grace and Mercy." When Nicholas heard the song, he told Jabari he needed to write more songs like that. "I know quartet singing is your comfort zone," Nicholas said, "but I believe God has something greater for you. Those kinds of songs are going to touch the people."
During a four-year stint playing guitar for Bishop I. V. Hilliard's New Light Christian Center Church in Houston, Jabari had the chance to learn and grow under the church's worship leader, Preashea Hilliard.
A chance meeting with producer Asaph Ward at the Church of God in Christ Auxiliaries in Ministry (AIM) Convention eventually turned into a job for Jabari: playing guitar for Bishop T. D. Jakes' The Potter's House. Jabari said that when he first sat in on guitar for a Potter's House service, Bishop Jakes happened to be there. "He said, 'Let me hear more of the guitar!' After about four months, they gave me the job."
Jabari's journey from supporting musician to recording artist started after he posted a video on Instagram and Light Records VP and General Manager Gina Miller commented on it. "I looked her up and realized she was with eOne. I hit her up and said, 'Oh, we have to talk as soon as possible.' She said, 'I agree!' The relationship just built from there."
Jabari's first single, "Have Your Way," was released on eOne's Indie Blue imprint. The single features gospel artist Todd Galberth. The two met at Bishop Hilliard's church. "After I wrote the song, I said to Todd, 'Man you gotta sing on this!' The part that you hear on the record is what he thought wasn't good enough. I said it sounds amazing!"
A couple of months after the single release, Jabari was signed to Light. "They said they needed a record," Jabari said. "It was crunch time, but we got it done." Produced by his brother Nicholas, Day of Redemption was completed in two months and released May 4.
But Jabari is no stranger to the studio. Among his recording credits to date includes playing on JJ Hairston & Youthful Praise's award-winning 2017 album, You Deserve It.
In addition to "Grace and Mercy" and an acoustic version of "Have Your Way," Day of Redemption includes "Rain On Us," which Jabari co-wrote with Joseph Anthony. "I was at a service where Joseph was singing. He started flowing and I heard him sing, 'I hear the sound of the abundance of rain falling down.' I hit him up and said, 'I like that one. Can I add more lyrics to it and we can make it a song?' I began to write more lyrics while I was in service. I wanted the song to feel like a worship 'Purple Rain,' so that's why it starts off with rock guitar."
"Jesus" was included on Day of Redemption as a tribute to his father. "My Dad asked if I was going to put any quartet songs on the record. I said 'No.' He said, 'Man. you got to do something. You can't go away from your roots. So that song is just for him!"
The steel guitar heard on the title track is a loop from a recording by hip hop artist Logic. "I'm going to keep doing that," Jabari said, "because I'd never heard a steel guitar on a gospel song!"
The sixty tickets to Jabari's CD release party sold out in one day. Still he was nervous. "The day of the event, I'm sitting there thinking, 'Is everybody really gonna come?' I went to the restroom, came back, and the room was packed!" Among the attendees was his brother, who came in from Houston. "We did 'Jesus' and the place went crazy. I wasn't expecting that kind of response for 'Jesus.' I was expecting it for 'Day of Redemption' or 'Have Your Way.""
After "Have Your Way" saved Jabari's life, he knew he needed to record it. "If it brought me out, it will bring somebody else out."
Jabari said that he receives messages from people saying how the song changed their life as well as videos of people singing "Have Your Way." "One lady told me she lost her brother and my song helped get her through. I was getting ready to give up, she said, but your song blessed me so much, I didn't want to do that."
He reflected: "When I was let go from Bishop Hilliard's church, I went to work for UPS. I had all kinds of bills at the time. I worked there for two weeks, and I said, 'This is not what God has for me.' I just gave it all up. The following week, I had a job at Higher Dimensions Church as the youth worship leader. I'm a firm believer that you need to trust God and step out on faith. If you are scared to jump, you will never make it to the next level."
That is much of what Jabari hopes listeners learn from Day of Redemption. "First of all, I want them to give their life to Christ. Then it's all about putting everything behind you and pressing toward the mark. Looking at those things behind you and saying that's not worth it, God has something greater."
Jabari's wish list of artists he'd like to work with include Bruno Mars, Migos, and Raphael Saddiq. "I became familiar with Raphael when he did the BET Awards," Jabari said. "Ever since then, I've been a super fan. I consider myself a Raphael Saddiq who sings gospel music."
Jabari just wrote a song a few weeks ago called "Never Alone" and sang it at the CD release party. "It went really well," he said, "so it could be the single on the next record.
"There's a lot more to come," he added. "I can't wait for everyone to hear it."
For more information, visit: www.eonemusic.com.
Written by : Bob Marovich
Bob Marovich is a gospel music historian, author, and radio host. Founder of Journal of Gospel Music blog (formally The Black Gospel Blog) and producer of the Gospel Memories Radio Show.