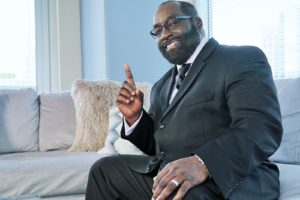 By Bob Marovich
Rocky Mount, North Carolina, an hour's drive from the state capitol of Raleigh, is neither rocky nor mountainy. The population is a modest 60,000, but the town looms large in gospel music lore as the longtime home of one of the genre's most important family dynasties: the Barnes Family.
The dynasty began in 1959 when the Reverend F. C. Barnes founded Red Budd Holy Church in Rocky Mount. Generations of Barnes family members have worshipped at Red Budd and enriched the church's music ministry as singers, directors, songwriters, and musicians. Barnes and the Reverend Janice Brown put Rocky Mount on the gospel music map in 1983 when they hit solid gold with their downhome duet, "Rough Side of the Mountain."
Atlanta International Records, then a fledgling company, released a series of recordings on the traditional-leaning duo and also began recording other Red Budd Holy Church-based ensembles, including the Red Budd Gospel Choir and the Sunset Jubilaires quartet.
At the helm of both the choir and quartet was one of Rev. F. C.'s sons, Luther Barnes. Known for his smooth vocal delivery, Barnes earned a music degree from St. Augustine's College in Raleigh and organized the Red Budd Gospel Choir. He also sang lead with the Sunset Jubilaires. Over the course of his career, Barnes has amassed a number of honors and awards, including a Stellar Award and Grammy and Dove nominations.
Following his father's footsteps into the ministry, Luther became ordained in 2006. Three years ago, he founded Restoration Worship Center in Rocky Mount and established the Restoration Worship Center Choir, which includes longtime Red Budd Gospel Choir members.
Luther Barnes told JGM that the ardor of forming a new church is one reason we haven't heard from him musically in the past few years.
He added: "I got burned out, for one thing, putting out so much music every year and going to the conventions and award shows. I took a step back, and now that I have a church to deal with, that sort of took the place of a lot of my music. But now that the church is established and moving on, I was able to put more time in the music and get a new project out."
Released September 9, the new project is called The Favor of God.  It is Barnes's first album as part of D.A. Johnson's SRT Productions.  Produced by Barnes and Derrick Lamont Adams, the album is resplendent with strings and brass accompaniment to the full-bodied singing of the church choir.
"I wanted [The Favor of God] to have the flavor of my past music," Barnes explained.  "And also to have more of a contemporary style.  I wrote a lot of cryin' songs in past years, and so I wanted this album to be uplifting, but also soul touching, to say something in the songs."
Most importantly: "I wanted to give praises back to God for what He brought us through."
That's the main theme behind the current single, "God's Grace," which tethers Barnes lyrics to a melody by Adams.
Barnes said "God's Grace" is about "looking back on my life in this music industry for thirty-plus years and not wanting to take credit that I'm all this, and all that, and grand, and I know what I'm doing, and sitting on the mountaintop, but that I'm only here because of God's grace. I count all the credit and honor that we've gotten over the years to God's mercy and grace. I feel others have the same testimony, so I try to write songs that others can say, 'Wow, that's me too.'"
Songwriting is a big part of Barnes's music ministry, one that requires equal measures of inspiration and perspiration.
"You have to sit down and work it out," he said. "That's your work for the day: to write a song. You are inspired by God and by other music that you may hear. I hear country music and soul music, jazz—all that goes into my music. Some of it is inspiration, some of it's just sitting there and working it out. It takes days, weeks, even months sometimes."
Still, Barnes keeps a tape recorder at the ready. "I write while I'm driving, and sometimes I have to pull over, because you better capture it then! If you think, 'Oh, this song is so good, I'll remember it tomorrow,' it will leave you. You better write it down!"
He continues to sing with the Sunset Jubilaires and hopes to do an album on them next. "I want to alternate between the choir and the quartet, because I love both. But whatever God says."
As far as pastoring goes, Barnes remarked: "I've had a good experience, having to do funerals, going to hospitals to visit folk, doing all kinds of counseling. It's different for me, but I'm getting to love it, and I love my people. That's what makes that difference: when you love your people. I also have a good supporting staff, so I can still go out and sing and do concerts. But I'm only three years old in [pastoring]. I'm still learning!"
What does Luther Barnes want listeners of The Favor of God to take away from the album's twelve songs?
"Something that will carry them for years to come," he replied. "Not for just a few months, but something that will speak to the masses and churches and choirs for years."
He adds: "And that Luther Barnes has not lost his touch. That I still have the favor of God on my life. We've been thirty years-plus doing this. God's been good."
For more information, visit www.shanachie.com.
Written by : Bob Marovich
Bob Marovich is a gospel music historian, author, and radio host. Founder of Journal of Gospel Music blog (formally The Black Gospel Blog) and producer of the Gospel Memories Radio Show.