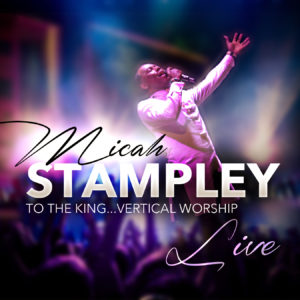 By Bob Marovich
On May 20, Micah Stampley releases his eighth album, To the King…Vertical Worship.  The live recording, which took place at Oasis Family Life Church in Dallas, Georgia, on June 26 of last year, finds the gospel crooner offering up a batch of new songs, many co-written with his wife and songwriting partner, Heidi.
"Be Lifted," the album's first single, is already impacting gospel radio.
Stampley talked with JGM about the new album, first explaining what he means by vertical worship.
"To be categorized as a gospel artist," he said, "we have to sing the gospel.  It's not rocket science!  But for a while, gospel artists had gotten accustomed to singing songs that highlighted our struggles and defeats and current issues.  It turns [gospel] into a very depressing sound.  I encourage a lot of my peers to get out of that.  You don't have to sing about all that stuff.  It's not necessarily bringing healing and deliverance to people.  We're only reminding people of the situation they are in without giving them an actual solution."
He added: "God is not obligated to do anything for us just because we have a need.  But He is obligated to fulfill His word.  So whenever I have a need, I can put Him in remembrance of His word.  When you do that and you write from that perspective, the music becomes vertical."
Stampley has traveled around the world singing and teaching workshops about music ministry.  He recently returned from Johannesburg, South Africa, where he appeared with Tim Godfrey and South African gospel giant Silly Mahlangu.  Stampley was even adopted several years ago by a king from Ghana, West Africa, making him a prince.  As such, the singer has taken to learning the Ghanian language.
For the live recording of the Heidi-penned single, "Be Lifted," Stampley sang in the Ghanese dialect as well as in Spanish.  Together with their producer, they gave it a global sound.  "It just organically took that turn," he said.  "It wasn't intentional!"
"Be Lifted" became his favorite moment from the live recording.  "The audience would not stop singing that song," he said.  "It went on for close to thirty minutes!  You're talking about a five minute song that ended up being thirty minutes!  They were still screaming for more but I had to say, 'No – we've got to get to the rest of this album!'"
In addition to new songs, Stampley incorporated one of his favorite styles of sacred music: hymns.
"We got to a place where the church became so progressive that we ruled out hymns," Stampley explained.  "I write music with a nice crazy beat, but when I really need to get into a place of healing and deep worship, a lot of times I go back to hymns.  Those songs have so much depth and power.  I'm grateful I had that upbringing on those hymns.  There are very few that I don't know."
He continued: "I have a segment on the album where I do a medley of hymns.  I had three of my sons come on stage and I passed the mike to them, and they sang ['Revive Us Again'].  The entire place went into a huge worship moment, where people were crying and shouting."
To make the hymns more contemporary, he said, "I was able to use strings for a very worshipful sound, like you would hear at Hillside, and bridge the generations–give the older generation a familiar medley, but in a way young people would love."
To the King…Vertical Worship will be released as a CD and DVD on Stampley's own label, Interface Entertainment.  He owns all of his masters with the exception of his first album with Bishop T. D. Jakes, which was released on Dexterity/EMI.  "It's a blessing to own your own masters and have something for your children."
For more information on Micah Stampley, visit www.micahstampley.org.
Written by : Bob Marovich
Bob Marovich is a gospel music historian, author, and radio host. Founder of Journal of Gospel Music blog (formally The Black Gospel Blog) and producer of the Gospel Memories Radio Show.