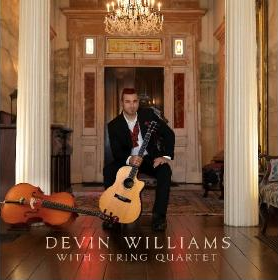 By Bob Marovich
With seven of his singles, including the latest, "Like a Fire," becoming Top 30 Christian Rock charting songs, Devin Williams has done what, to my knowledge, no Christian rocker has done to date: set his searing singles to the soothing sounds of a string quartet.
Released August 31, Devin Williams with String Quartet was produced by Grammy Award-winning engineer Brad Blackwood, (Maroon 5, Korn, Skillet, Sara Bareilles, Alison Krauss).
What has been the initial reaction of Williams' fan base to the new project?
"It's still early, but the fans are digging it," Williams told the Journal of Gospel Music. "One guy said, 'I love your rock stuff, but this is a really cool take on some of these songs. I can listen to it over and over again.' I think my fans are ready for another rock record with some raging guitars but this is something different, a twist. The intensity's there."
To say that Devin Williams's musical interests are eclectic is an understatement. Growing up outside of Fresno, California, Williams recalls being surrounded by "a crazy mix of music at the time, like hip hop, metal, and rock. I listened to it all."
His parents, recording artists who had a popular lounge singing act during the 1970s, encouraged their son's musical proclivities from the start. But when it came down to it, Williams preferred music that featured the guitar as the prominent lead instrument. "Rocking guitars struck a chord with me—pun intended!" he laughed.
Nevertheless, the first tape Williams ever owned was Licensed to Ill by the rap act the Beastie Boys. "I loved that record," he reminisced. "It was one of their defining albums." Williams also listened to metal veteran Ozzy Osborne and even participated in the breakdancing craze.
Given his mélange of musical interests, Williams did not want to play Christian music initially—his sights were set on being a rock star. "MTV was getting to be really big when I was young," he said. "I was watching bands like Guns 'n' Roses, with Axl Rose rocking out in stadiums full of ten and twenty thousand people. I was like, 'I have to be that guy someday!' But when I was getting ready to make a decision about my life, the Lord got hold of me. And I am very grateful."
Williams' shift to Christian music started when someone gave him a Petra tape. While he now acknowledges Petra's pioneering influence on Christian rock, at age thirteen, Williams was grooving out to Nirvana. In comparison to Kurt Cobain, Petra's sound fell short of expectations.
Then Williams discovered Jesus Freak, the 1995 album by DC Talk.
"That was the first really well-produced Christian rock CD I'd ever heard," he said. Even his brothers, who were followers of hardcore metal, liked the DC Talk album.
While attending Bible college, Williams learned about additional Christian bands. He heard spirituality in the work of U2: "They were making a profession of faith in some of their songs."
In Florida, Williams formed a three-piece Christian rock combo called Tribe, but was initially nervous about the group's reception. "That was my main beef when I dedicated my life to the Lord," he said. "No one is going to accept my music. But God said, 'Just write your songs about me. Just do it.'"
Tribe changed its name to Mouthpiece. But by 2009, Williams was also fielding inquiries as a solo artist.
"For a long time, I had this solo act thing," he explained. "I would be asked to do a birthday party, but they didn't want the band, they just wanted me. Or churches that wanted me to do a couple of acoustic songs. And if the drummer or the guitar player [of Mouthpiece] couldn't make a gig, and it was only me, the fans would be mad: 'This isn't Mouthpiece!' But the drummer had a gig that paid better!"
In 2009, after writing worship songs that were sonically different from his Mouthpiece material, he gathered members of Mouthpiece to support him on his first solo project, Pour It Out.
Williams's worship songs began to garner radio play and hit the music charts, but he didn't know it until he began to receive royalty checks in the mail. "I didn't know how radio and charts worked," he admitted. "I released my first song and I think it made it into the Top 100. When I got checks from ASCAP, I was like 'What is this? Money in the mail!'" He contacted ASCAP to make sure it wasn't a mistake; they assured him it wasn't. "I was ecstatic! My parents were ecstatic!"
It was difficult to be an independent artist and work within a band, so Williams decided to focus on solo work. More singles, more chart hits, and more royalty checks followed.
Devin Williams with String Quartet was birthed in part out of a pet idea and in part from a serendipitous musical partnership. "I was getting ready to do an acoustic show," Williams explained, "and I invited another acoustic guitarist to join me. But he asked if he could play the cello at the show. So we practiced together and I was just blown away. It sounded so warm and rich."
The two agreed to someday record a project together.
"I love classical music," Williams said. "I studied music in college, and I studied classical guitar and jazz guitar. I love strings. If you listen to rock 'n' roll, a lot of those riffs are classical riffs. I was really excited when Metallica did Symphony and Metallica some years ago , but I found that there wasn't enough emphasis on the strings. It was just the band with strings on the side."
Williams' original concept was to record one or two songs with his cellist friend, but then he decided to re-record his most radio friendly tracks with cello. After purchasing a copy of the composition software Finale, and hearing what "Like a Fire" sounded like with an entire string quartet, not just cello, he was sold.
Williams said he pulled together the rest of the string quartet from the "many extremely talented musicians" at Belmont University.
"The songs are my babies – they were written from experiences in my life," he added. "My faith is infused in every song [on Devin Williams with String Quartet]. I hope that listeners will feel encouraged and feel peace, whatever they are going through. As far as musically, I hope listeners hear all the time we spent putting together what I consider to be a piece of art."
For more information, visit: www.devinw.com.
Written by : Bob Marovich
Bob Marovich is a gospel music historian, author, and radio host. Founder of Journal of Gospel Music blog (formally The Black Gospel Blog) and producer of the Gospel Memories Radio Show.