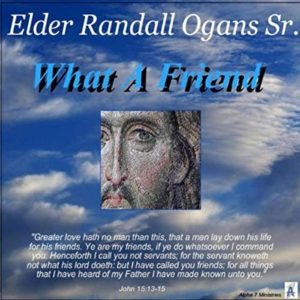 Elder Randall Ogans Sr.
What a Friend
Alpha 7 Ministries (release date: October 1, 2020)
www.alpha7.org
By Bob Marovich
Elder Randall Ogans Sr.'s What a Friend contains classic hymns bathed in smooth instrumental arrangements.
Well, almost. "We Need to Pray" is the one and only track with lyrics or, more specifically, a spoken word meditation by Elder Ogans. Over the melody of the Lords of Harmony's 1965 single, "If God Gave Us Everything," Ogans shares a real-life parable about a homeless shelter to remind listeners that there but for the grace of God go we.
Otherwise, it's instrumental jazz played by the duo of Elder Ogans (keyboards) and son Dorian (guitar, bass, and percussion). For example, the  title track opens with lovely flourishes on acoustic piano and transitions to a silky arrangement backed by gentle percussion, electric piano, and organ.
A mid-tempo arrangement of C. D. Martin and C. H. Gabriel's "His Eye is on the Sparrow" features lightning bolts from Dorian's electric guitar amidst a gradually crescendoing cooperative. Fanny Crosby and W. H. Doane's nineteenth-century gospel song "I Am Thine (Draw Me Nearer)" gets generous helpings of piano alongside subdued organ and guitar. Elder's lilting acoustic piano on this and other tracks is what really sells the album.
The duo takes the listener to church on the Sunday School favorite-turned-protest song "This Little Light of Mine." Elder Organs sustains the warbling of the organ while incrementally building its volume, a la Booker T. Jones, though there is no big finish.
The fidelity to the melodies serves the collection well and makes this a fine go-to CD for accompanying special events or prayer meetings at church.
Three of Five Stars
Picks: "What a Friend," "His Eye is on the Sparrow."
Written by : Bob Marovich
Bob Marovich is a gospel music historian, author, and radio host. Founder of Journal of Gospel Music blog (formally The Black Gospel Blog) and producer of the Gospel Memories Radio Show.