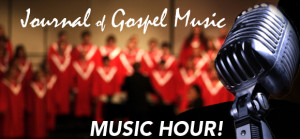 Click on the image above to hear the 100th episode of the JGM Music Hour.
Playlist:
God's got me – Dexter Walker & Zion Movement
Up and praise 'em – Judah Band
Hope – Tiff Joy
He's been good – Dr. A. Edward Davis Jr. & St. John Mass Choir
Make a way – Janice Gaines
Pray for me – Kirk Franklin
Thirsty for the rain – Keith Williams
Made a way – Travis Greene
The song – URIM 7
Nada me faltara – Denyse Bittencourt
Blessed – Big Mike feat. JaNet Miller
Come too far – Golden Crowns of Louisville, KY
Written by : Bob Marovich
Bob Marovich is a gospel music historian, author, and radio host. Founder of Journal of Gospel Music blog (formally The Black Gospel Blog) and producer of the Gospel Memories Radio Show.