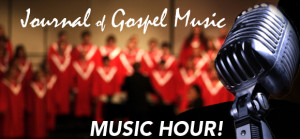 Click on the image above to start program.
Playlist:
Think of His goodness – Dr. Karry D. Wesley Presents the Antioch Fellowship Church Voices of Praise
Breakthrough – Bonita Burney Simmons
Jesus – Rodriquez Linson & Ministry
Call Him – Min. Earl Bynum feat. Andra Cross
My all and all – Derrell Thomas
Wait for you – Ragu Suguturaga
Better than gold – Holly Ann
By myself – Deon Kipping
Upraised – Kassandra McGhee
Bless up – Jor'Dan Armstrong
Come 2 me – Spirit 2 Spirit
Give it all – Jae Jerome
Written by : Bob Marovich
Bob Marovich is a gospel music historian, author, and radio host. Founder of Journal of Gospel Music blog (formally The Black Gospel Blog) and producer of the Gospel Memories Radio Show.