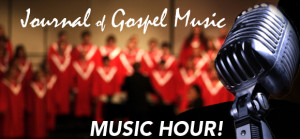 Click on the image above to start Music Hour – Episode 105.
Playlist:
Will you be ready? – Roy and Revelation
Got to have faith – Original Gospel Creators of Atlanta
Show me the way – Lisa Barron & Joyful Sounds
To be loved by God – Kimberly Palmer-Blackwell
I will endure – Pastor David Wright & NY Fellowship Mass Choir
You are God – Grace Covenant Worship
Oh how we love you – Tiff Joy
God has a blessing – ShaQuan Welch
I can't stop thinking 'bout Heaven – R.E.V. feat. Niccole Stephens
Unchurched – Todd Dulaney
It's only a test – Bishop Larry Trotter & Sweet Holy Spirit Choir
Believe in His promises – Mighty Men of Faith
Mother Emanuel – Pastor Shirley Caesar
Written by : Bob Marovich
Bob Marovich is a gospel music historian, author, and radio host. Founder of Journal of Gospel Music blog (formally The Black Gospel Blog) and producer of the Gospel Memories Radio Show.