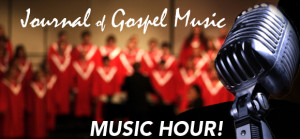 Click on the image above to start the Music Hour…where you can listen to the music you read about here!
Episode 106 Playlist:
What you know about Jesus – Greg Delaine & Brother 2 Brother
Don't knock – Eagle Rock Gospel Singers
Zion praise – Clareta Haddon
Testimony – Monica Lisa Stevenson
We adore you – Anthony Nelson & Overcomers
You covered me – Pastor Marlon Lock
Author – Latice Crawford
Jericho – Livre'
Christian Walk – Darren Deac
Closer to you – Carrington Gaines
Holy Spirit – Nia Allen
Imperfect me – Smokie Norful
Lunch tables – Viktory feat. Ashliann
Glory to the lamb – Micah Stampley
Written by : Bob Marovich
Bob Marovich is a gospel music historian, author, and radio host. Founder of Journal of Gospel Music blog (formally The Black Gospel Blog) and producer of the Gospel Memories Radio Show.