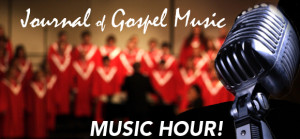 Click on the image above to begin the streaming Music Hour.
Playlist:
And we're going on! – Shonda English
So grateful – Dayna Caddell feat. Israel Houghton
Your life's about to change – Canton Spirituals feat. Pastor Tim Rogers
Even me – Howard Gospel Choir
Arise (you are good) – William Murphy
He chose me – Chadwick
Your will – Bill Moss Jr feat. J Moss and Demetrius Nabors
He'll do it again – Eloho feat. FLOROCKA
I'm good – Ryan Rutley feat. Erica Lancaster and Jason Rutley
The master's calling – Deborah Joy Winans
God loves you – Gretchen Keskeys
I am blessed – Kevan Peabody feat. Lady Dayanna Griffin
Favor of God – K'metris Hunt
Written by : Bob Marovich
Bob Marovich is a gospel music historian, author, and radio host. Founder of Journal of Gospel Music blog (formally The Black Gospel Blog) and producer of the Gospel Memories Radio Show.