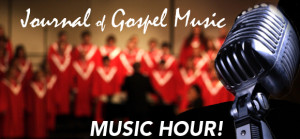 Click on the image above to begin the streaming Music Hour.
Playlist:
I'll never stop praising the Lord – Northern Delaware Chapter of the GMWA Recording Choir
God meant it for good – Denise Josiah
Keep on praising – Jewell & Converted
Right there for me – Crowns of Joy
I give you praise – Chicago Mass Choir
Press on – GEI Live (feat. Bishop J. Drew Sheard)
God got my back – TaMyyaJ
Where you are – Christopher Williams
Have your way – Puchi Colon
Faith can – Debbie Cochran
Revive me – Ron Taylor
He loves me – Tricia Alicia
God's grace – Rev. Luther Barnes & Restoration Worship Center Choir
Written by : Bob Marovich
Bob Marovich is a gospel music historian, author, and radio host. Founder of Journal of Gospel Music blog (formally The Black Gospel Blog) and producer of the Gospel Memories Radio Show.