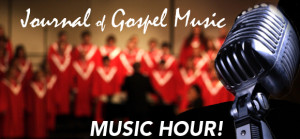 Click on the image above to begin streaming Episode 109:
Playlist:
Rock steady – Angela Bennett
Devotion – Nate Bean & 4Given
Give thanks – Doe Jones
Be still – Riverside SDA Choir feat. Lecresia Campbell
Hallelujah – The Stand Campaign feat. Joann Rosario-Condrey
King of the broken – Rick Stephenson
Escaped to tell – Blanche McAllister
I've come too far – Faithful Connection
I'm a winner – Tonya Lewis-Taylor
Give me Jesus – Dawn Turner
In due season – Jennifer Myles
You are – Half Mile Home
Sing Hallelujah to the king – Belle Carmen
Not about this life – Pastor Charles Jenkins
Written by : Bob Marovich
Bob Marovich is a gospel music historian, author, and radio host. Founder of Journal of Gospel Music blog (formally The Black Gospel Blog) and producer of the Gospel Memories Radio Show.