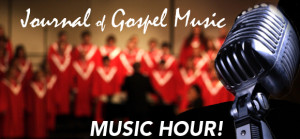 Click on the image above to begin streaming the show.
Playlist for Episode 110:
Operator 911 – Chris Byrd and the Heavenaires
Higher ground – Dr. Mark Williams
Let it be done – Albert White and AVOP
Hold on – Rance Allen Group
Let it go – Evang. Brenda Whitt-Abney & Bones of Fire
Jesus reigns – VaShawn Mitchell
You were there – Henry Hall and New Dimension Worshippers
Because of who you are – Sounds of Imani
Angel – Hostyle Gospel feat. Tone Jonez
I am changed – Karlos Nichols
Key to my heart – Summer
Born again – Kinsmen
Written by : Bob Marovich
Bob Marovich is a gospel music historian, author, and radio host. Founder of Journal of Gospel Music blog (formally The Black Gospel Blog) and producer of the Gospel Memories Radio Show.