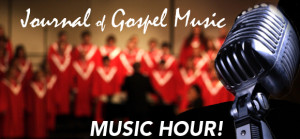 Click on the image above to hear the show.
Episode 113 Playlist:
Joy! – Warren Dean Flandez feat. Top Line Vocal Collective
Trust in you – Anthony Brown & Group TherAPy
You are – Dr. F. James Clark Presents Next Generation Choir
The blood – Charles Butler & Trinity
Forever mercy – Lamont Sanders
King of glory – Montel Dorsey & MUniversity
Keep pushing – Keith Wonderboy Johnson
Fisherman – Favour
My life has been changed – Virginia Aires
Continuous praise (over and over) – Zion's Joy!
Darkness go away – Boo Deezy
God's highway – Sandra McCracken
Praise Him – Bishop J.D. Means Sr.
Written by : Bob Marovich
Bob Marovich is a gospel music historian, author, and radio host. Founder of Journal of Gospel Music blog (formally The Black Gospel Blog) and producer of the Gospel Memories Radio Show.