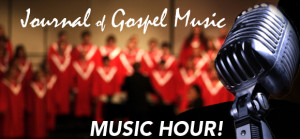 Click on the image above to begin streaming the program.
Playlist for Episode 116:
It pays to serve Jesus – LaVarnga Hubbard
Bigger than me – Le'Andria
Serve – Jermaine Dolly
Because of you – Sherwin Gardner
If it wasn't for your love – Meg Elliott
Simply because – Dana Fields feat. Adam Brock
The call – Personal Praise
Worth fighting for – CASS
I still do – Doc Pearson feat. Al Johnson & Kathy Horry
You are holy – William E. Johnson III
Wings – Natasha Owens
Where are u? – CL Carr
I give you praise -Robert Person feat. Richard Smallwood
Written by : Bob Marovich
Bob Marovich is a gospel music historian, author, and radio host. Founder of Journal of Gospel Music blog (formally The Black Gospel Blog) and producer of the Gospel Memories Radio Show.