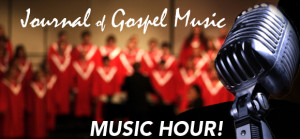 Click on the image above to begin streaming the show.
Episode 117 Playlist:
Well done – Ernest J. Lee feat. Donnie Tuck
Jesus is Lord – Calvin Bridges
I will not fear – Devin Sinclair Williams
Higher place – Angelo and Veronica
A hero song – Royce Lovett
Holy, holy – Dr. Allyn E. Waller Presents Fresh Anointing
I know the Lord – Michelle David
Job well done – Above Board
Where do we go – Paula and Angie
Number 1 contender – Hi-Lite Real
Too hard not to – Tina Campbell
Never give up on you – Dennis Yancey
Anywhere we are – Nichole Nordeman
Written by : Bob Marovich
Bob Marovich is a gospel music historian, author, and radio host. Founder of Journal of Gospel Music blog (formally The Black Gospel Blog) and producer of the Gospel Memories Radio Show.