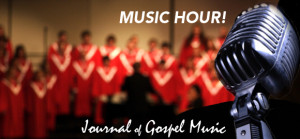 Click on the image above to begin the program.
Playlist for Episode 86:
Old time religion – New Converted Voices
God will – Kergyma Community Choir
All we need is love – Totally 4 Him feat. Doug Williams & Stan Jones
It's our time – Dr. Vera J. Goodman & Anointed Praise
Here I am – Team David
The greater – J. Grant Thompson
Just know God cares – Natasha Gray
Alright OK – J Moss
He shall reign – Bridgett Kern
Leave that woman alone – Evang. Nelson Larkins & God's Posse
Havin' church – Min. C.L. Johnson
Hallelujah – Jewell & Converted
The blood still works – JJ Hairston & Youthful Praise
Written by : Bob Marovich
Bob Marovich is a gospel music historian, author, and radio host. Founder of Journal of Gospel Music blog (formally The Black Gospel Blog) and producer of the Gospel Memories Radio Show.