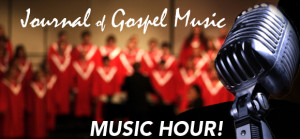 Click on the image above to listen.
Music Hour Episode 98 Playlist:
Oh! – Jonathan McReynolds
Love vs. the world – Xavier O'Connor
Alright – Tony Mclendon
Here I am – Zaviel Janae
All the glory – Alexis Spight
Not that easy – Trinity Dawson
My son – Okey Sokay
Restored for worship – Kevin Riley
Holy is the Lord – Lorraine Stancil
I'm blessed – Sue Roseberry
In the room – Carla Martin
Don't you want to go too – Appointed2
You are a wonder – Joyful Gospel
Delayed but not denied (live) – Tonya Lewis-Taylor
Written by : Bob Marovich
Bob Marovich is a gospel music historian, author, and radio host. Founder of Journal of Gospel Music blog (formally The Black Gospel Blog) and producer of the Gospel Memories Radio Show.