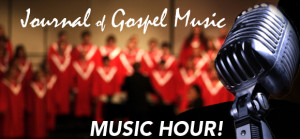 JGM Music Hour: Episode 99 (click on the image above to play):
Playlist:
You should've been there – Virginia Aires
Hold on – Debbie Orange
God wants to hear from you – Samuel R. Blakes
Every chance I get – Bishop Andrew J. Ford II & the Anointed Voices
My soul says thank you Lord – Apostle Dr. Ross D. Garrison feat. Minister Gene Viale
Heaven belongs to you – Alabama Gurlz
The Lord will make a way – Bishops Quartet
The stone has been rolled away – Al Johnson feat. Derrick "Doc" Pearson
In you – Bridgett Kern
All over again – Stryper
Hear me now – Yardley Griffin
Hear us – Maurice Griffin
Restore me again – Deitrick Haddon
Yes Lord yes – Pastor Paul Ruffin
Written by : Bob Marovich
Bob Marovich is a gospel music historian, author, and radio host. Founder of Journal of Gospel Music blog (formally The Black Gospel Blog) and producer of the Gospel Memories Radio Show.