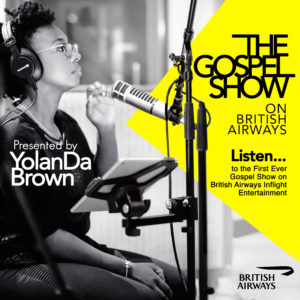 British Airways and YolanDa Brown take Gospel Music into the Air
From a Press Release:
British Airways has added a new radio show to its inflight entertainment offering: "The Gospel Show," presented by YolanDa Brown."
This is the first-ever gospel radio show to be broadcast on British Airways planes around the world. This is excellent news as British Airways is one of my favorite airlines. Hang on, let me rephrase that. It is one of my favorite airlines that I have tried. I have yet to experience flying on a private jet, unlike my friend who has flown on private jet charters, through companies like Jettly on most of the overseas trips she has taken. If you asked her, she would tell you that she loves this way of traveling above the rest, but I would tell you that British Airways is definitely the route to go down, especially now that they have broadcasted gospel radio shows. Let's just hope that the Delta Sky Lounges can start playing a bit of gospel too in order to ensure no part of air travel is void of gospel music. The lounges are a popular perk of the American Express Platinum Card. You can find more info here.
A lively mix of gospel music from both established and emerging artists from all over the world. From trad to the best of contemporary gospel and everything in between, this show explores the different sides of gospel music.
Award Winning Saxophonist YolanDa Brown fell in love with radio at the age of 8 when the family television was replaced by a radio. She was attracted to radio because of its ability to interact and involve listeners in a non-visual way compared to other formats.
"My radio show provides a unique opportunity for travelers to discover new music and learn about the artist uninterrupted in the air," Brown said. "I am looking forward to hearing wonderful stories of discovery… now I want to travel everywhere the radio show does."
The Gospel Show with YolanDa Brown broadcasts on British Airways Inflight Entertainment.
The first show features music from Hezekiah Walker, Tasha Cobbs, Jessica Reedy, Jonathan McReynolds, Tye Tribbett, Annastasia Baker, Anita Wilson, and loads more.
Written by : Bob Marovich
Bob Marovich is a gospel music historian, author, and radio host. Founder of Journal of Gospel Music blog (formally The Black Gospel Blog) and producer of the Gospel Memories Radio Show.