Fro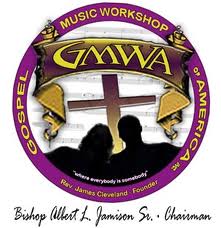 m a press release:
Following the recent death of the much loved and respected National Gospel Announcers Guild (GAG) Chairman, Al "The Bishop" Hobbs, Bishop Albert Jamison and the Board of Directors of the GMWA announce the appointment of a new GAG administration and leadership team.
The newly appointed officers, along with the GAG Committee, will oversee the operation of the National Gospel Announcers Guild. Dennis Cole (Chicago, IL) has been named Committee Leader and Chris Squire (Philadelphia, PA) appointed Assistant Committee Leader.
"Proverbs 18 says that your gifts will make room for you. This committee is full of gifted industry professionals who are strongly committed to the success of the National GAG," expresses Bishop Albert Jamison, GMWA Chairman. "It is now even more equipped to do so with the forward thinking leaderships of the GMWA Board approved Committee Leader and Assistant Committee Leader."
Dennis Cole and Chris Squire are both excited about their new positions and foresee an opportunity to expand the established standards previously set by a great predecessor, Al "The Bishop" Hobbs. "We are beginning our work immediately with a team focus on goals that will benefit the whole organization without waiting for reward," Cole shares. "Chris and I will be purposeful servant leaders who will bring skilled, professional and relevant individuals to the GAG delegates to focus on their self-improvement and demonstrate to the GAG delegates their potential and capacity to grow under ever changing industry circumstances."
The New Gospel Announcers Guild Committee and Officers are as Follows:
Dennis Cole (Illinois), Committee Leader
Chris Squire (Philadelphia), Assistant Committee Leader
Evangelist Judy Neal (Texas), Secretary
Willie McClendon (Tennessee), Treasurer
GAG Committee Members:
Tracy Artis (Ohio)
Sheilah Belle (Virginia)
Neily Dickerson (California)
Fran Kelly (Arkansas)
Bishop Arvetra Jones (North Carolina)
Chuck Spearman (Missouri)
Ron Jones (Kentucky)
Pastor Juandolyn Stokes (Georgia)
James Robinson, (GMWA Board Member) serves as Liason to GAG Committee
The Gospel Announcers Guild is a voluntary association of Religious Announcers who have come together to address their common needs as professional broadcasters. This organization was born out of the lack of emphasis and concern placed on religious broadcasting, as well as religious broadcasters, by the nation's major broadcast and record industry conventions and associations.
For more information on The Gospel Announcers Guild and regional chapters, contact:
NationalGAG14@aol.com | 773-445-9104 or James Robinson at Flava4ya2@aol.com
Written by : Bob Marovich
Bob Marovich is a gospel music historian, author, and radio host. Founder of Journal of Gospel Music blog (formally The Black Gospel Blog) and producer of the Gospel Memories Radio Show.