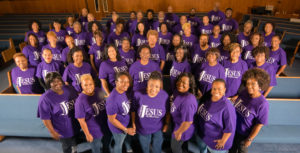 Farewell Concert Sat. June 18th, 3 pm at Greater Abyssinian Baptist Church, Newark, NJ
(Monday, May 9, 2022 / New Jersey, NJ) – Following 24 richly-inspiring seasons, Reverend Stefanie Minatee, a.k.a. "Rev. Stef," and her internationally-renowned choir Jubilation (RSJ), will retire on June 18, 2022. Members of RSJ will share a farewell performance at the Grammy Museum in Newark on Wednesday, June 15, exclusively for Grammy winners.
RSJ, which before COVID, thrilled audiences with 2 tours of Japan, as well as Spain and Russia, will retire in glorious style via the release of the compilation/tribute project, Worship Him, dedicated to charter member Rita Owens (mother of Dana Owens, "Queen Latifah").
Reverend Minatee reflects, "This is a compilation of the very best of everything Jubilation has done – the 'greatest hits' from our 6 past CDs plus some new flava. It will be a blessing to all who hear it. 'Listen and be lifted!'"
A final concert is scheduled for Saturday, June 18, at the Greater Abyssinian Baptist Church in Newark, New Jersey.
An impressive assemblage of gospel greats and notable secular artists join Jubilation to make Worship Him a fittingly phenomenal sendoff. Those artists include gospel icons Evangelist Dorothy Norwood and the late Rev. Lawrence Roberts, Grammy-winner Cedric Thompson, Gospel legends A. Jeffrey LaValley and James Perry, the late Joel Bryant, Price keyboardist Cassandra O'Neal, the awesome voices of Nancey Jackson Johnson and Kim Armstrong, songwriter/musician/clinician Dr. Ouida W. Harding, Beverly Mondey Collins, and Pastor A. Samar Biggham.
The 11-song Worship Him includes soul-stirring selections from throughout the group's recording history, including the slow-building decree to stay steadfast in Him titled "Hold to His Hand," the daydream of Heavenly glory titled "Someday," and the direct anti-procrastination message "Do it Now."
Jubilation was formed in 1998 at the request of civil rights icon Donald K. Tucker (Newark Councilman/Assemblyman and Stefanie's uncle) with New Jersey Performing Arts Center (NJPAC) CEO Larry Goldman. Jubilation began with 120 singers – an intergenerational/multicultural aggregation of vocal talents across denominations, races, and generations. Rev. Dr. Stefanie Minatee is Jubilation's founder and artistic director, a 30-year veteran of music education. Jubilation won a 2010 Grammy backing Queen Latifah on her 2010 take of "Oh, Happy Day."
"Rev Stef," a great woman of faith, suffered a debilitating stroke in 2015. With physical and spiritual fortitude, prayer, and her faith community's support, she made a triumphant return to worship, participating in Jubilation's 20th-anniversary concert in June 2019.
Reverend Minatee concludes, "Jubilation will still be available when called upon under the auspices of I Believe God Productions. Whatever doors God leads us to, we will walk through proudly as we 'Worship HIM' in spirit and in truth!"
For more information about Reverend Stefanie Minatee or Jubilation, contact SRMinatee@aol.com or www.jubilationchoir.org
Written by : Bob Marovich
Bob Marovich is a gospel music historian, author, and radio host. Founder of Journal of Gospel Music blog (formally The Black Gospel Blog) and producer of the Gospel Memories Radio Show.