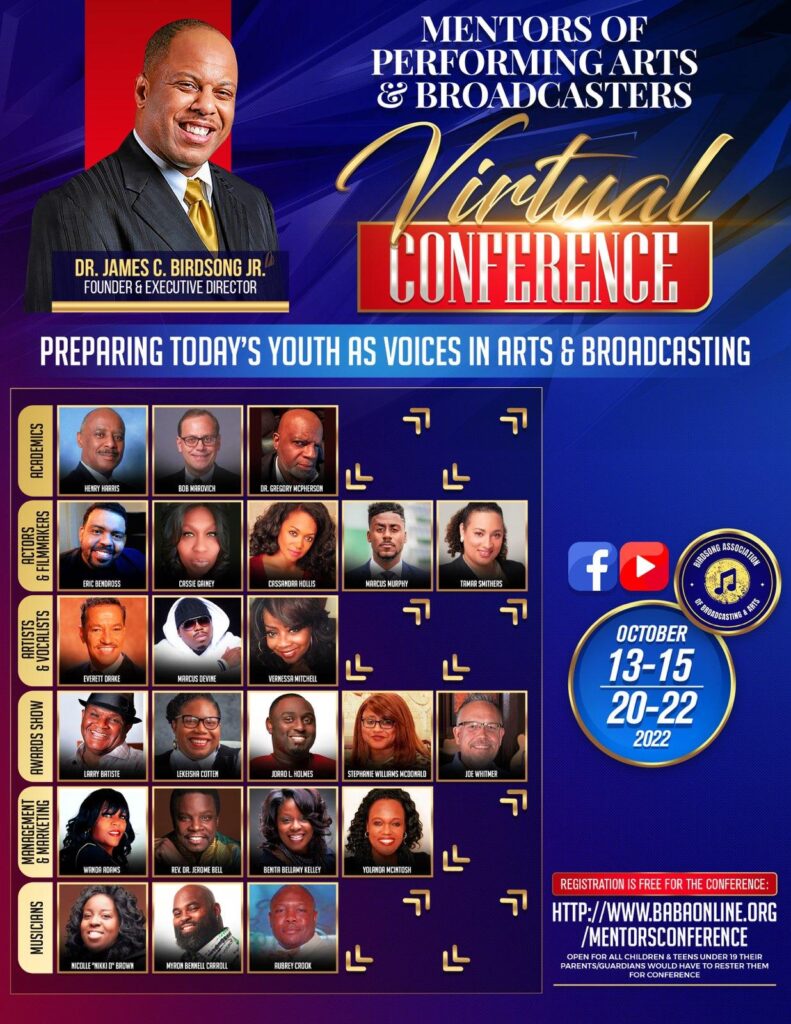 Rahway, New Jersey – Sep 24, 2022 (Issuewire.com) – The 2022 1st Annual Mentors of Performing
Arts & Broadcasters Virtual Conference will take place October 13-15 and October 20-22, 2022.
Birdsong Association of Broadcasting & Arts (BABA) will present this celebrity-filled event with entertainment and music industry executives, producers, songwriters, record labels, and more. This four-day virtual presentation will focus on children and teenagers. The conference will be live streamed nationwide on the organization's Facebook page and YouTube channel.
The Birdsong Association of Broadcasting & Arts was created from the vision imparted by its founder, Dr. James C. Birdsong, Jr. The vocalist, songwriter, preacher, and author received a message from God in 2018 with the message "Preparing today's youth as voices in Arts and Broadcasting." His vision materialized one year later when he started the organization. The 501(c)(3) nonprofit organization helps African American youth from K-12 grade to pursue careers in the performing arts and broadcasting through programs, scholarships, workshops, and events. It partners with local schools, colleges, and universities to achieve their goals. The organization stands on its original message-turned-mission: "Preparing today's youth as voices in Arts & Broadcasting." Since its inception, BABA has mentored many young people.
Dr. James C. Birdsong, Jr is a member of the famous Birdsong family. His family legacy includes the legendary Cindy Birdsong of the Supremes, the late Edwin Birdsong, who was a GRAMMY® award winner and legendary 1970s keyboardist, and NBA All-Star Otis Birdsong. Although he came from a famous family, Dr. Birdsong has made a name for himself with an impressive resume of his own. He is the recipient of over 40 awards, including the Bill Clinton Award and S & M Gospel Music Honors Award.
In addition to his many awards, Dr. Birdsong has been a devoted advocate and is viewed by many as a voice of the people in the African American community. His impact has not gone unnoticed. President Joe Biden recently acknowledged his achievements with a personalized letter from the White House. Dr. Birdsong also received two of the esteemed Newsome Awards. One was for Humanitarian of the Year and the other for Promoter of the Year. Governor Larry Hogan of Maryland congratulated him with a Governor's citation. Dr. Birdsong is a multi-listee in the autobiographical reference book, Who's Who in America. He was presented with the Albert Nelson Marquis Lifetime Achievement Award, whose past recipients include former President Bill Clinton, the late General Colin Powell, and businessman Warren Buffett. Dr. Birdsong has been honored throughout the United States and internationally for his contributions to music, arts, education, and humanities.
A powerhouse group of moderators and panelists will be discussing worldwide topics virtually. One of them will be Dr. Birdsong's personal publicist, Yolanda McIntosh from MizMacMarketing™ LLC along with Everett Drake, vocalist for Bobby Jones Gospel; Nikki Rich, host of the Nikki Rich Show & OWN Network Ambassador; Larry Batiste – Music Director for the GRAMMY Awards; Bob Marovich – 2x GRAMMY Award Nominated Album Liner Notes Writer; Rhonda Supreme – nationally syndicated radio personality; Cassie Gainey, actress & segment producer at Dreamworks Animation; Talen Harris, former lead vocalist of the R&B group Atlantic Starr; Marché Butler, Director, Creative for BMI Atlanta; Parkes Stewart, songwriter for Yolanda Adams, Commissioned & Dave Hollister; Benita Bellamy Kelley, President at the Bellamy Group; Joe Whitmer, Production Consultant at the Blues Foundation; Troy Edwards, CEO at 3HP Records; Musician Larry Whitfield; Veteran Hip Hop artist and Stellar Award winner Emcee N.I.C.E., and more.
Registration for this inspirational youth event is free and open to children and teens under 18 years old.
Parents and guardians must register their children in order for them to participate. Parents are encouraged to tune in with their children. Register now online at https://babaonline.org/mentorsconference. Mr. Birdsong is available for interviews.
Written by : Bob Marovich
Bob Marovich is a gospel music historian, author, and radio host. Founder of Journal of Gospel Music blog (formally The Black Gospel Blog) and producer of the Gospel Memories Radio Show.