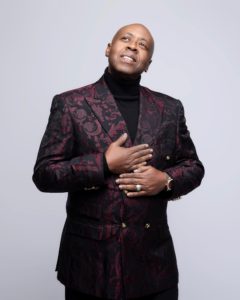 For Immediate Release
(Houston, Texas) The music community is mourning the loss of a Gospel music legend with the passing of Shawn McLemore after an extended illness.
"Shawn was a great spirit with enormous talent and personality to match", says Blacksmoke Music Worldwide CEO Kerry Douglas. "To see him take the stage and have absolute command of the room was just magic. He was genuine, he had a great sense of humor and when he sang, God listened. Shawn was a gift to us and he will surely be missed."
Life began for Shawn McLemore in Los Angeles, California, where the church and music served as his foundation. As a child, he felt there was a calling on his life to spread the Word of God,, so he set out to do just that. Shawn completed his studies and earned degrees from West Los Angeles University and Houston Bible College.
He would make his national debut with the release of Wait On Him on the Verity record label in 1987. Shawn eventually joined the Worldwide Gospel family and continued to record and tour around the country. One of his biggest hits would come from the pen of James Fortune and pair him with Zacardi Cortez in the form of "I Believe." "I Believe" dominated the airwaves and the gospel music radio charts for multiple weeks.
Shawn found success on the road as an actor in a number of theatrical productions, including Tyler Perry's If Loving You is Wrong and Hell Has No Fury Like a Woman Scorned, Come Out of the Rain, I Need a Man, Momma Don't, Don't Get God Started, Sneaky, Momma I'm Sorry, Listen to Your Woman, Friends and Lovers Casino – Confessions, and the hit gang film Colors starring Sean Penn and Robert Duvall.
He is survived by his wife Rhonda and daughter, ShaRon. Funeral services are being scheduled for this weekend in Houston.
Written by : Bob Marovich
Bob Marovich is a gospel music historian, author, and radio host. Founder of Journal of Gospel Music blog (formally The Black Gospel Blog) and producer of the Gospel Memories Radio Show.