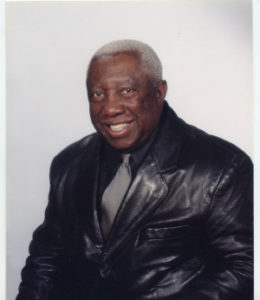 Willy Leiser and Linwood Heath informed JGM that Bernard Pinder has passed away. Here is a brief bio, courtesy of andre-café.com:
Bernard Pinder is an anointed gospel singer whose gift has allowed him to travel extensively across the country as well as overseas. Bernard has sung before some of the most influential people in the world today, yet is as excited about singing at the smallest storefront church, as he is to sing before great men. It is a blessing to hear Bernard sing and he is an undisputed favorite in the Delaware Valley. His life is devoted to the worship and praise of GOD.
Mr. Pinder is a native of Chester, Pennsylvania. He is married to Elizabeth Pinder and they have two children, Darryl and Nicole. His church membership is with the New Jerusalem Church of God in Christ, located in Chester. In addition to his talents as a singer, he is also a gifted arranger, director, and workshop clinician whose specialty is praise and worship.
Some of his local affiliations have included: Music Director of the Travelers for Christ and The Women In White. He has been a soloist for the New Jerusalem COGIC Mass Choir, the Range's Temple COGIC Mass Choir, the Dandridge Choral Ensemble, and the State Choir of the Commonwealth of Pennsylvania Jurisdiction of the COGIC.
He has worked with the Philadelphia Gospel Seminars (Edwin Newberry, founder), Music Ministry Workshop (Freddie Washington, founder), and Carol Antrom's Afternoon Of Song mass choir. He has also sung as a member of Michael Pickett and the Voice of Praise, and the Edwin Newberry Singers.
Bernard's national affiliations have included: The National Convention of Gospel Choirs and Choruses. Inc., Wilmington/Chester Mass Choir, the renowned Clinton Utterbach Ensemble, Gospel Music Workshop of America (the late Rev. James Cleveland, founder), and Leonard Burks and the Voices of Praise.
Bernard has also toured internationally with the Duke Ellington Band to perform Duke Ellington's acclaimed Sacred Music Concert, and with Edwin Newberry and the Philadelphia Gospel Seminar Choir, where he had the opportunity to sing for Pope John Paul II.
He has recorded such songs as "Every is A Day of Thanksgiving," "Holiness," "I'll Fly Away," "You Shall Have Everlasting Life," and "The Lord is My Shepherd." He has performed in concerts featuring artists such as the late Rev. James Cleveland, The Mighty Clouds of Joy, The Winans, Richard Smallwood, Shirley Caesar, The Clark Sisters, The Davis Sisters, The Raymond Rasberry Singers, Darryl Coley, Danniebelle Hall, and many others.
JGM extends its condolences to Mr. Pinder's family, friends, and many fans.